November 2011
RECLAIM TO WEAR by LIVIA FIRTH@ECO-AGE.COM Exclusively for yoox.com
Proving that sustainability and style can indeed go hand in hand, YOOXYGEN, yoox.com's eco-friendly initiative, proudly announces a collaboration with Reclaim To Wear, an organization that brings together designers, producers and distributors to create capsule collections developed from pre-consumer textile waste and surplus from mills and manufacturers. The first guest designer to lend their creative vision to the project is Livia Firth @ Eco-age.com, where she is creative director. From late November 2011 - just in time for the holiday season - YOOXYGEN will present an 'eco' party-dress designed by Livia Firth and produced in limited-edition in Italy by Cooperativa Rinascere, exclusively available at yoox.com.
This is only the beginning. Spring 2012 will see the presentation of an exclusive new design, still top secret. "We are really excited to be working with Livia she is a friend as well as a longtime supporter and this collaboration will show up-cycling in a new light; classic, timeless and relevant to today's fashion trends and environmental needs. By teaming up with Livia, undoubtedly one of the world's most committed fashion icons, and sharing our knowledge to help her launch her signature dress, we continue to highlight the creative potentials of up-cycling as a design solution to an environmental challenge, encouraging alternative practices for a more sustainable fashion industry" confirms Orsola de Castro.
Renowned for both her impeccable sense of style and ecological responsibility, Livia Firth was the first woman to walk the red carpet at the Oscars dressed entirely in 'upcycled' fashion. Firth is a self-proclaimed natural 're-purposer' and was excited to meet the Reclaim To Wear team at the Cooperativa Rinascere: "It was a natural fit… here were piles of scrap-fabric that when combined with design and sewing talent could become beautiful dresses" Livia affirms.
The dress Livia Firth designed has a particularly personal background. In addition to referencing style-icon Grace Kelly, it is also inspired by a vintage 50s polka-dot dress owned by Firth's mother. 33 years later Firth discovered it still hanging in her mother's closet, after making a few adjustments to update the piece she then wore it to dinner with Prince William and Kate Middleton. This dress was the inspiration behind her creation for YOOXYGEN as Livia explains: "For yoox.com I decided to recreate a dress that's very similar in shape and spirit, a piece that suits every occasion and every body shape. The hand embroidered dots give it a touch of femininity and playfulness, both necessary ingredients in life."
Livia's dress, in a limited edition, is made with end of rolls vintage menswear fabric in silk and wool. The polka dot detail is hand crocheted from end of cone angora yarns. To further promote the sustainable message of the project around the world, yoox.com will feature online exclusive contents including behind-the-scenes video footage of Livia Firth at Cooperativa Rinascere studios, alongside an in-depth video interview with the designer herself.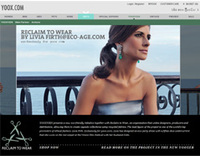 November 2011
M Missoni joins OrphanAid Africa on humanitarian project
M Missoni has created a capsule collection designed by Margherita Maccapani Missoni, President of OrphanAid Africa's Italian Chapter.

To go on sale this coming November 16th in all of the brand's own stores and also online exclusively at yoox.com, the leading virtual store for fashion and design, the collection features clothes and accessories, a total of 12 items, in a sole two-tone pink & red version of the signature Missoni zig-zag pattern.

Part of the proceeds from sales will go to OrphanAid Africa, which will use the funds to give orphans and abandoned children in Ghana a new family.

M Missoni Shops:

ITALY - Milan Corso Venezia 2

USA - New York 426 West Broadway, NY 10013

USA - San Diego Fashion Valley 7007 Friars Road, CA 92108

USA - Miami Aventura Mall 19501 Biscayne Blvd, FL 33180

USA - Houston Houston Galleria 5015 Westheimer Road, TX 77056

UK - London Westfield Shopping Centre Ariel Way, Unit 1039A, W12 7GD

MACAO - The Venetian Macau - Resort Hotel Shop 2630, Level 3, Podium The Grand Canal Shoppes

HONG KONG - Harbour City, Kowloon Ocean Centre Shop No. 2127, Level 2 Gateway Arcade

Exclusively online on:
YOOX.COM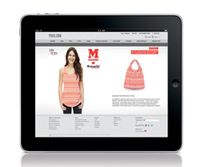 November 2011
YOOXMAS PARTY! online on yoox.com
The festive season is upon us, and yoox.com - the world's leading virtual store for multi-brand fashion and design has decided to celebrate, starting from mid-November with a digital party – YOOXMAS Party!

To help make this a party to be remembered, yoox.com has teamed up with a truly unique 'Party Planner' – acclaimed Italian video artist and digital story-teller Felice Limosani. Using the techniques of graphic motion and paper art, YOOXMAS Party will unfold in a series of 6 interactive video-stories where gift ideas from yoox.com magically come to life in a pop-art celebration of imagination and creativity.

The videos will be unveiled in the weeks leading up to the festive season exploring the worlds of women's wear, menswear, products for the home, kids wear, eco-friendly gifts and pets. Music, lights, colors and fun combine to create a unique online celebration on yoox.com.

Among the fabulous festive ideas showcased in the YOOXMAS Party:

For Her - party dresses and spectacular looks to help you celebrate the New Year with style. Designers like Erdem, and Antonio Berardi offer something to liven up any holiday look, while accessory addicts will find something to tickle their fancy with seasonal sparkle in jewelry by Coliac and Sabrina Dehoff and fashion-forward accessories by Rochas and Giuseppe Zanotti design. If classic style is more your thing, yoox.com has combed the world to put together a selection of vintage Hermes silk scarves to add a touch of elegance to the holidays.

Seasonal good-deeds take a stylish turn with the M Missoni capsule collection designed by Margherita Maccapani Missoni for OrphanAid Africa, exclusively available online at yoox.com. Social responsibility meets savoir faire in a range of the collection features clothes and accessories, 12 styles in a two-tone pink and red version of the signature 'Missoni' zig-zag pattern.

For the sartorially inclined gentleman, yoox.com offers stylish gifts with clothing, accessories, footwear and hi-tech gift ideas by some of fashion's biggest names. Glamorous globetrotters will love La Portegna's travelling slippers, while stylish work bags make ideal gifts for the career man alongside timeless fashion by Costume National, Maison Martin Margiela and much, much more.

Holiday-up your Home with a selection of exceptional furniture, lighting and design pieces. For the YOOXMAS Party, the colors of pop art come to life in tableware by Muuto or pieces like the brand-new Cyclope mirror by Ioanna Vautrin for Moustache. The limited edition Multibong side table by Cappellini exclusively for yoox.com adds a touch of color-blocking to your living room.

The smaller members of the family are given special attention at the YOOXMAS party, with designer clothes by brands like Little Paul & Joe, eco-accessories by Biello and of course, toys galore! Kids of all ages will appreciate the playhouse by Paper-Pod or the old-world charm of Vilac's handcrafted wooden toys. Any good party needs a responsible host, and yoox.com is no exception.

The YOOXMAS Party showcases the best of YOOXYGEN - the eco-friendly initiative of yoox.com. Party-ready eco-fashion and accessories from brands like MaxJenny, Carmina Campus and Lost Property of London. Up-cycling meets up-town elegance with the 50's inspired eco-friendly cocktail dress by Reclaim-to-Wear by Livia Firth@Eco-age.com - a must-have for the party season and available exclusively on yoox.com.

Even man's best friend gets an invitation to the party with futuristic pet-beds by Pei Pod, fabulous collars and leashes by Kane Couture and much more, all available on yoox.com.

RSVP – there's no need, the YOOXMAS Party is open to all! This virtual party is accessible even on the iPad, allowing last minute gifts to be snapped up and delivered around the in with just a few clicks in time for Christmas. YOOXMAS Party is the perfect place to enjoy all the fun of the holidays and find something unique guaranteed to make this December something to remember.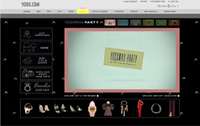 November 2011
YOOX.COM DEBUTS IN SOUTH KOREA
Already delivering in more than 100 countries worldwide, YOOX Group, the global Internet retailing partner for leading fashion & design brands, continues its strategy of penetration and localization in new promising markets debuting in South Korea with the virtual store yoox.com. YOOX Group launches the localized version of yoox.com in the Korean language exclusively for all its fashion and design lovers in the country that already boasts high Internet penetration rates as well as a high propensity to online purchases.

The new version is the 9th localization for the virtual store yoox.com after English UK, English USA, French, German, Japanese, Italian, Spanish and Russian. yoox.com is now offering a customized experience to users in South Korea with tailored editorial content in the Korean language.

Korean fashion lovers - both men and women - will now have the possibility to access the exclusive selection of fashion and accessories of yoox.com, as well as capsule collections created exclusively for yoox.com, eco-friendly fashion, a unique assortment of home design objects, rare vintage finds and art books not only from their desktop, but anywhere and anytime thanks to the optimized web version for iPad, iPhone and Android in the Korean language.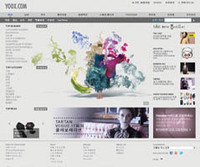 October 2011
IRIS APFEL & YOOX.COM
In 2005, Iris Apfel, a youthful octogenarian dubbed "one of America's quintessential style-makers," was celebrated with a retrospective exhibition at the Metropolitan Museum of Art. It's remarkable how today, someone so devoted to ignoring trends could find herself simultaneously solicited by a mass market television retailer, posing for a hip cosmetic brand's advertising campaign and coming up with a treasure trove of costume jewelry for the world's incontestable pioneer of fashion's digital marketplace: yoox.com. Iris is definitely in the air.

"A rare bird" noted for her shamelessly powerful mix of high and low, Haute Couture elegance with flea market chic, Iris is not only an icon of great New York style. She's a recycler. Her well-educated eye, in evidence during her long and distinguished career as an interior designer and co-founder (with her husband, Carl) of Old World Weavers, Iris has been featured in the New York Times already six times this year by fashion and society's beloved street style photographer, Bill Cunningham.

Iris may be small, but her jewelry is big. With enormous confidence and stage presence, she wears the jewels; the jewels do not wear her. The time-honored rule of dressing well, to take off one piece of jewelry before leaving the house, does not apply here. For Iris, more is more.

Technically out of fashion, Iris is adored by its gurus. Ralph Lauren, after a private tour of her Metropolitan exhibit, reportedly offered her a job. For a party hosted by Bergdorf Goodman in Dries van Noten's honor, he named only one indispensible guest: Iris. In June of this year, The Council of Fashion Designers of America asked Iris to present the Accessory Designer of the Year Award to 27 year old Alexander Wang.

"I was introduced to Iris a year ago and have since come to admire her original eye and extraordinary sophistication at close range. At yoox.com, we worship her philosophy of style. Her extravagant passion for beautiful materials and great design is contagious and an example to us all."
Holly Brubach, Vintage Curator, yoox.com

"As a child I watched every day as my very chic 'maman' worshipped at the altar of the Accessory. Like a shaman stylist, she worked her magic, transforming her workaday black dress into a smashing cocktail outfit. Her talismans were shoes and scarves, bags and belts, but most important was her costume jewelry collection…her bits and baubles, bangles and beads. Slowly I began to appreciate their powers of transformation, their ability to evoke a mood and express an individual personality, to make a statement about the wearer."
Iris Apfel

From October, members of Iris's worldwide fan club become her customers on yoox.com. True to the yoox.com philosophy, their news is not about the season's it-bag, but the timeless integrity and love of great design. IRIS APFEL is a must-have collectible for connoisseurs of style.

The IRIS APFEL & YOOX.COM selection is divided into three, distinct categories:
1. COLLECTION / A newly-designed ready-to-wear jewelry COLLECTION retailing from £ 27 - 317.
2. LIMITED EDITION / An exclusive, high-end selection of jewelry, also newly-designed available in LIMITED EDITIONs ranging from two to six units per design with retail prices ranging from £ 574 – 1,481.
3. PERSONAL / Unique pieces from Iris Apfel's PERSONAL collection acquired and worn with love over the years retailing from £ 273 – 1,764.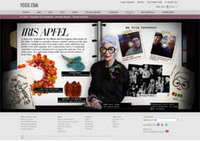 Nel 2005, Iris Apfel, la giovane ottantenne risconosciuta come "una delle più importanti icone di stile americane" è stata celebrata con una mostra retrospettiva al Metropolitan Museum of Art. E' notevole come oggi, qualcuno che finora non ha mai dato importanza alle tendenze possa collaborare con un canale televisivo dedicato allo shopping, in posa per la campagna pubblicitaria di un brand di cosmetici e allo stesso tempo creare un progetto di costume jewelry per lo store virtuale leader nel mondo: yoox.com. Iris is in the air.

Nota per il suo sfacciato mix di contrasti, dalla sua eleganza Haute Couture alla "raffinatezza" del mercatino delle pulci, Iris non è solo una grande icona di stile di New York: lei ricicla. Un occhio allenato grazie alla sua lunga e brillante carriera come designer di interni e co-fondatrice (con il marito Carl) dell'Old World Weavers. Iris è apparsa sul New York Times sei volte quest'anno fotografata dal celebre fotografo street style, Bill Cunningham. Iris può essere piccola, ma i suoi gioielli sono grandi. Con enorme fiducia in se stessa e presenza scenica, indossa i gioielli e non viceversa. L'antica regola del vestirsi bene, e che invita a togliere un gioiello prima di uscire di casa, qui non si applica. Per Iris, di più è sempre meglio. Tecnicamente fuori moda, Iris è adorata dai suoi "guru". Ralph Lauren, dopo una visita privata alla sua mostra al Metropolitan, secondo alcuni giornali, le offrì un posto di lavoro. Dries van Noten, in occasione di una festa organizzata da Bergdorf Goodman e a lui dedicata, la volle come unica e indispensabile ospite. Nel giugno di quest'anno, il Council of Fashion Designers of America ha chiesto ad Iris di presentare l'Accessory Designer of the Year Award assegnato al ventisettenne Alexander Wang.

"Ho conosciuto Iris un anno fa e da allora ho sempre ammirato la sua visione originale e la straordinaria raffinatezza. Su yoox.com, veneriamo la sua filosofia di stile. La sua stravagante passione per i bei materiali e il grande design è contagiosa ed un esempio per tutti noi."
Holly Brubach, Vintage Curator, yoox.com

"Da bambina ho sempre osservato come la mia mamma elegante venerava il suo altare di accessori. Come una stylist un po'sciamana, che con la sua magia, trasformava il vestito nero da tutti i giorni in un fantastico abito da cocktail. I suoi talismani erano le scarpe, le sciarpe, le borse e le cinture, e soprattutto la sua collezione di bijoux... ninnoli e chincaglierie, braccialetti e perline. Lentamente ho cominciato ad apprezzare i loro poteri di trasformazione, la loro capacità di evocare uno stato d'animo ed esprimere una personalità individuale, di rendere importante chi li indossa."
Iris Apfel

I membri del fan club mondiale di Iris diventeranno suoi clienti su yoox.com. Perfettamente in linea con la filosofia di yoox.com, non si parlerà della it-bag della stagione, ma dell'integrità senza tempo e l'amore per il grande design. IRIS APFEL è un must da collezione per gli intenditori di stile.

Il progetto IRIS APFEL & YOOX.COM presenta una selezione di prodotti, suddivisi in tre differenti categorie:
1. COLLECTION / Una selezione ready-to-wear di gioielli contemporanei. Prezzi: € 32 – 378
2. LIMITED EDITION / Una selezione esclusiva di gioielli, dal design contemporaneo e disponibili in LIMITED EDITION che vanno da due a sei pezzi per modello. Prezzi: € 683 – 1.763.
3. PERSONAL / Pezzi unici dalla collezione PERSONALE di Iris Apfel acquistati e indossati con amore negli anni. Prezzi: € 325 – 2.100.
September 2011
ESTETHICA AT YOOXYGEN
The world's leading virtual store, for multi-brand fashion and design, yoox.com continues its collaboration with Estethica - The British Fashion Council's (BFC) ethical initiative.

Officially launching during London Fashion Week September 2011, YOOXYGEN - yoox.com's eco-friendly site and Estethica's official online retail partner - will present a selection of Estethica designers' Autumn/Winter '12 collections.

Estethica showcases the very best of sustainable, innovative fashion. Designers that have been selected for the third season of this collaboration and are available on the new YOOXYGEN ethical retail space include: From Somewhere, Goodone, Lost Property of London, Henrietta Ludgate, MAXJENNY, Sonya Kashmiri.

The British Fashion Council founded Estethica to showcase the rising trend of cutting edge designers committed to sustainable fashion. Estethica has evolved to become the hub of London's ethical fashion industry.

In line with its commitment to eco-sustainability and its research and promotion of new approaches to creativity, yoox.com continues to support a new scene of sustainable fashion, offering its global presence and reach to include emerging British talents around the world.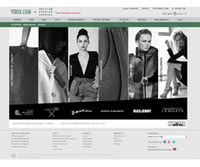 September 2011
MULTIBONG
the colors and shapes of fashion take on new forms in an exclusive piece by
CAPPELLINI FOR YOOX.COM
Internationally renowned design brand Cappellini joins forces with the leading virtual store for multi-brand fashion and design in the world, yoox.com, in the creation of a unique new product, MULTIBONG, available in a strictly limited edition exclusively on yoox.com from September 2011.
New York Design Week, played host to the worldwide debut of a new product and the beginning of an exciting collaboration between the worlds of design and the web. From 14- 17 May 2011 design addicts from all over the world were given the chance to see MULTIBONG on show at the Cappellini Flagship Store in SoHo.
MULTIBONG is the latest multicolor evolution of the Bong table, created in 2004 by the Italian architect, designer, talent scout and trend-setter Giulio Cappellini. Crafted from fiberglass, Bong is normally available in a range of matt colors as well as a version with an evocative "marble" effect.
Giulio Cappellini has drawn inspiration from yoox.com's dedication to both fashion and design, and the ever–increasing affinity between these two fields of creativity and excellence. The trend for color and incisive graphic intervention seen in recent fashion collections are reinterpreted and given new life.
The result is MULTIBONG - An evocation of balance and harmony through the artful use of syncopated visual rhythms and graphic asymmetries. The rounded side table or stool is adorned with decisive geometric detailing, mixing intense citrus tones and earthier colors in a high-gloss finish.
100% Made in Italy, MULTIBONG is finished by hand by Cappellini"s master craftsmen and will be available, while stocks last, exclusively on yoox.com.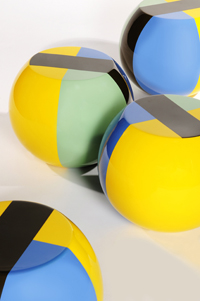 Special Project

Palazzo della Civiltà Italiana – Eur Roma July 8th, 2011 – 7 p.m.

From the research that characterizes the identity of LIMITED/UNLIMITED, the exhibition was conceived as a manifesto of true stylistic individuality inspired by both the past and the future, bringing to life the special project RE/EDITION in collaboration with yoox.com.

Iconic pieces of 8 historic maisons will be interpreted by eight young designers who will make great use of their creativity, translating these pieces into real must-haves of the present. One-off pieces will be available exclusively on yoox.com, the leading virtual store for multi-brand fashion and design in the world.

Albino/Alberto Fabiani, Leitmotiv/Simonetta, Max Kibardin/Albanese, Micaela Calabresi Marconi/Saddlers Union, Nicole Brundage/Gherardini, Sara Lanzi/Albertina, Sergio Zambon/Irene Galitzine, Silvio Betterelli/André Laug.

Rome, increasingly becoming a bridge between the past, present and future has a role and a mission that achieves concrete manifestations in this special project. At the heart of the project of Altaroma, RE/EDITION is the link between the historic maisons, contemporary young designers and the Internet.

Not just an exhibition, RE/EDITION will be also virtual and even mobile, thanks to its partnership with yoox.com.

Directly from the exhibition and from anywhere around the world, it will be possible to exclusively "reserve" the eight one-off pieces created by the young designers, all with a simple click from your iPad or computer. yoox.com presents online special features and videos created for the project. Like a path leading from Rome to the web to the iPad, RE/EDITION and unique craftsmanship will reach the world thanks to yoox.com.

ALBERTO FABIANI
"I have summarized many years of work, difficulties, and hopes under the name of "Stracci" (rags). I do not want to be ironic, or underestimate the role of tailors. The "Stracci" (rags) are our life, because they are recognized as weak yet indispensable. Each season they renew women and therefore the world. And every season, we seriously believe that women have never been more beautiful, nor the world more interesting." Alberto Fabiani (1959, Cinquant'anni di STRACCI")

ALBINO
"I've always been inspired by the volumes and glamour of some creations of the 1950s. In this reinterpretation of the tailor Alberto Fabiani, I wanted to combine the sophisticated images of the photo archive from where I started with a touch of modernity in the construction, with a drier fitting in the materials. I envisioned white and black, the classics of timeless elegance, played in a fabric with a three-dimensional effect. The cuts are sharp and particular; the construction of the pleats was assembled by hand in the back panel of the skirt with precise Kimono sleeves. The result is the synthesis among the dress and coat: first with lightness and femininity, second with handmade creations and fine tailoring."

SIMONETTA
"The clothes are cheerful and frivolously part of life! It is a joy to create them. It is also fun and exciting to see a dress reinterpreted by young and new creative forces! Thank you Leitmotiv and now...over to you!"

LEITMOTIV
"The dress of the Simonetta maison will be reissued in silk organza in a powder color, with flounce sleeves in the form of a wheel. Different elaborations will be applied to the organza, from digital printing and screen printing to a work of embroidery made by Matilda Ricami. This creates a collage of techniques and diverse aesthetics which at the same time can enhance the apparent simplicity of the piece. The work of the dress reinterpretation is based on the study of what for us is particularly interesting; to be more precise with the sleeves and the back wheel while creating this line of clothing reconciles our Leitmotiv mood with that of the classic Simonetta maison."

ANDRE LAUG
"We enthusiastically joined the project LIMITED/UNLIMITED - said the Countess Laura Della Croce di Dojola, manager of André Laug - for one reason in particular: Andrè Laug was a designer always projected into the future; the pieces designed 40 years ago are actually also today. Therefore the Altaroma project particularly fascinates us as a piece from the past is reinterpreted while looking to the future. It also allows a talented designer to build his or her own style, without forgetting, and even enhancing, the iconic pieces of the past."

SILVIO BETTERELLI
The possibility to reinterpret the history of a historic tailor's shop as the one founded by André Laug, was a really fascinating experience. Starting from the meeting with the Countess Della Croce, who holds great passion together with her son, a designer and a premier historian who has always guided the work of the seamstresses and carries on the heritage of history and knowledge. In the atelier of Piazza di Spagna, I had the possibility to study and grasp the history and peculiarities of their work. I thought to work on blue wool crêpe overalls finished with embossed borders and points created by hand that frame lines, composed of fabrics that remind me above all the double faced clothes that they made with great skill. My overalls present cuts and asymmetrical structures with wide godets that open from the hips to the ankles, creating a pair of pants that have the characteristics of a skirt that resumes, exasperating and interpreting the volumes of one of the historical pieces of the maison, a cocktail dress representative of one worn by the beautiful Mirella Petteni in the late 60s.

ALBERTINA
"Only a person who loves "fashion" and hand-crafted creativity at the same time could have an idea so modern and contemporary for the future of couture. And for me that person is Silvia Venturini Fendi. We firmly believe in the success that LIMITED/UNLIMITED will have but especially in the RE/EDITION special project to whom we were invited to participate along with the talented young designer Sara Lanzi. So, a big thank you to Altaroma and to all those who love the art of dressing."

SARA LANZI
"the sweetest Albertina ..." Egle Monti, Il Tempo, 1960
"I met Albertina through her clothing, some testimonies and through her sister Maura. Entering this story 'of wool and women' - made of craftsmanship, sensitivity and intuition - has been a great tune. Simplicity and lightness are the characters that, beyond time and fashion, have permitted us to meet."

ALBANESE
"The concept of neocouture launched by the creative genius Silvia Venturini Fendi for Altaroma is in great harmony with the philosophy of the Albanese maison that always stands out in the fashion world for its original and cutting-edge works. The new interpretation of the "cock" model, designed in the late sixties, that Imelda Marcos, among others, ordered a pair of, where the eyes of the rooster was replaced by two diamonds of one carat and a half each, went down in history as an iconic model expressing the essence of originality and elegance of the maison. The new edition designed by Max Kibardin entitled "cock rock" expresses verve and sensuality while keeping the original spirit of Albanese style. We are very pleased to participate in this project and we hope that this collaboration with Max Kibardin is only the beginning of many others."

MAX KIBARDIN
"The idea was to emphasize femininity using more sophisticated materials (feathers and silk). I wanted to convey the delicacy and fragility of nudity."

SADDLERS UNION
Taken from the inspiration of the historic bucket bag, a milestone in the archive of Saddlers Union, declined and was redesigned to a trendier version. A bucket bag in a medium size without handles was made from the impression of the new designer Micaela Calabresi Marconi in leather and natural canvas (100% linen). The personalization with monograms, which is characteristic of the brand, has been replaced here by the digital impression of the designer imprinted on canvas, signifying the continuity and the renewal of new creativity.

MICAELA CALABRESI MARCONI
"The love for the beauty of an object that tells a story which has a tradition and a simple elegance, beyond the ephemeral. A reassuring icon. A reference point of a style that embodies a heritage of Italian craftsmanship, from the universal values to the international breath. An object with a precise historical identity interpreted through contemporary codes, to remain eternal."

GHERARDINI
"The reinterpretation of the DODICIDODICI of Gherardini by Nicole Brundage has followed the spirit of the project archive of our maison, the enhancement of the historical models using quality materials. In this case, silvery leather whose brightness stands out was selected. The designer Nicole has also suggested a mirrored metal handle complements the color of the leather and makes it a truly unique item to collect."

NICOLE BRUNDAGE
"Recently I was at the Gagosian Gallery in New York where the work of an artist named James Turell was shown. His works explore the possibilities of using light as a perception medium. While I was selecting the materials that I could use for the Gherardini bag, I remembered the show and I noticed a material called 'Mirror', which seemed to deeply reflect the light. I thought it would be interesting to make the bag an object that draws attention through its reflections, through both sunlight and artificial light. I was excited at the idea of silver reflective, as mirror-like as possible, also adding the silver handle. So I explored the possibility of creating a bag that interacts with the surrounding environment and the reactions that it could cause."

IRENE GALITZINE
"We feel close to the contemporary with our palazzo pajamas, a uniform of contemporary elegance that has been made for women since its creation by Irene Galitzine, and has become one of the evergreen uniforms of the woman's wardrobe. The new edition we are presenting is a modern interpretation of Sergio Zambon in key minimalist pop."

SERGIO ZAMBON
"Among the iconic pieces of women's clothing I always kept on top of my specialty, the palazzo pajamas, for their transversality between image and function."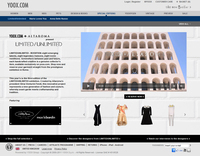 June 2011
Vivienne Westwood launches a new collection for Ethical Fashion Africa Project with the International Trade Centre and YOOXYGEN
Coming off of the highly successful spring launch season of exclusive bags for the first step of the Ethical Fashion Africa Project, Vivienne Westwood will now present a complete new collection of handbags and accessories. The Autumn/Winter collection line previewed at the recent AW 11/12 Gold Label show during Paris Fashion Week and is set to launch on yoox.com's eco-friendly initiative YOOXYGEN, starting June 2011.

The AW '11/12 collection builds upon the success of Vivienne Westwood's debut capsule collection. The range of styles has been extended to include weekenders, key rings, the classic Westwood Yasmine bag and a number of men's designs. These new designs also introduce a number of new materials - recycled electrical wiring, recycled aluminum and plastic bags which would otherwise end up in landfill - keeping a strong focus on creating a collection which minimizes the impact on our environment. "Handmade with love" in Nairobi, the collection has been produced in collaboration with the International Trade Centre (ITC) – a joint body of the United Nations (UN) and the World Trade Organisation (WTO). Currently supporting the work of over 7000 women in marginalized African communities, the ITC empowers informal manufacturers and craftspeople to enter the international value chain - providing income for some of the poorest people in the world. This promotes the growth of sustainable business in place of aid dependency and creates stability among these impoverished communities.

This is not charity, this is work.

In Nairobi's industrial area where the Vivienne Westwood collection is produced, the growth of this collaboration is helping women to build their skills and expand production which, in turn, helps to generate more work for the entire community. Virtual store yoox.com continues its support of Vivienne Westwood's Ethical Fashion Africa Project and remains dedicated to bringing the message of this initiative to a worldwide audience via the Web. Following the great success of the first Ethical Fashion Africa collection on yoox.com's eco-friendly section YOOXYGEN, yoox.com will now feature the new collection for men and women in addition to a curated selection of exclusive styles created exclusively for yoox.com. Among these special styles: the limited-edition Clutch Bag created from recycled blue tent canvas, and the printed Flap iPad and Laptop cases. To round out the selection, YOOXYGEN will celebrate the project with exclusive content such as editorial features and videos to help spread the Ethical Fashion Africa Project's work and story.

The new collection for Autumn/Winter 2011-12 carries 14 different styles of bags and accessories, both for men and women available in Vivienne Westwood stores, at www.viviennewestwood.com and www.yoox.com.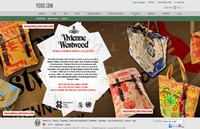 May 2011
MOSCHINO PETS EXCLUSIVELY FOR YOOX.COM
Moschino's creativity meets the virtual store yoox.com for a limited edition capsule collection of leashes and collars, MOSCHINO PETS. Available exclusively on yoox.com, the collection will be online in the PETS area starting at the end of May 2011.

All proceeds from the MOSCHINO PETS project will go to the "National Disaster Search Dog Foundation", a non-profit organization dedicated to training rescue dogs to become search dogs. Once trained, these dogs are partnered with firefighters and other first responders to assist in finding people after natural disasters. In particular, the project supports the rescue activities conducted after the recent earthquake in Japan.

Since no collection is complete without the perfect model, our ambassador for this project is a champion known worldwide for his grace and elegance. As World Champion 2006 and father of the current World Champion 2010, Woferlow Single Malt (better known as "Rocco") is a legend amongst dogs and humans alike. Thanks to his adorable puppy eyes, this six-year-old tricolor basset hound is the ideal mascot to represent the savoir-fair of the exclusive MOSCHINO PETS line.

Irony and playfulness depict themselves through the exclusive MOSCHINO PETS styles: the "Fioccosso" ("Bow-bone") collar in black leather with golden details and a white resin bone-shaped bow attached to a leash, which also features the ironic bow. For more romantically-inclined four-legged friends, there is the "Cuori" ("Hearts") collar. Featuring a reinterpretation of the iconic Moschino heart, the collar and leash set comes in brown punched leather with golden hearts. MOSCHINO PETS is available in three sizes and is sure to satisfy all styles and tastes.

Special thanks to the Terra dei Templari Kennel of Pordenone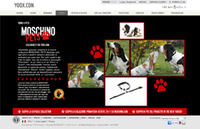 April 2011
CELEBRATE EARTH DAY WITH YOOXYGEN
The exclusive capsule collection by From Somewhere with Speedo,
a special project from Morcheeba for EDUN LIVE and much more,
only on yoox.com

Online April 22nd 2011 – In honor of Earth Day and in the spirit of renewal, the eco-friendly initiative YOOXYGEN on yoox.com presents a fresh new range of ethical projects. YOOXYGEN's newest offerings include not only an intriguing selection of environmentally-friendly fashion and exclusive limited-edition items created just for YOOXYGEN, but also a very special capsule collection by From Somewhere with Speedo featuring three exclusive styles available online only on yoox.com.

YOOXYGEN is pleased to announce its continued partnership with Green Cross International (GCI) in support of its project "Smart Water for Green Schools." Part of the environmental non-governmental organization (NGO), "Smart Water for Green Schools" seeks to provide safe drinking water for children by establishing rainwater harvesting systems, ecological sanitation facilities and environmental awareness in schools situated in trans-boundary river basins.

FROM SOMEWHERE with SPEEDO - Award-winning British eco-fashion designers From Somewhere have teamed up with the iconic swimwear brand Speedo to create an enchanting eco-couture collection of innovative up-cycled dresses, produced by the surplus stock of Speedo LZR Racer suits. The capsule collection, available exclusively online at yoox.com, features retro 50s styling with a playful modern twist, combining practical swimwear with high-end fashion trends to create a look that's equally at home, on the beach or at a party. Following the decision of FINA (Federation Internationale de Natation), swimming's governing body, to change the rules regarding swimsuit design and prohibit the use of full-body suits from January 2010, the world's leading swimwear brand Speedo was left with a surplus of the record breaking Speedo LZR Racer suit. Rather than sending the stock to landfill, FROM SOMEWHERE with SPEEDO have succeeded in designing and creating a new fashion mantra by transforming swimsuits into evening gowns. As the exclusive online retailer of From Somewhere with Speedo, yoox.com is excited to offer also three exclusive styles available online only on yoox.com, including the iconic "Statement" dress, the "Barbie" dress and "ID" Dress. All proceeds from the sale of these exclusive styles will be donated to Green Cross International.

ALSO AMONG THE EXCLUSIVE SELECTION AVAILABLE ON YOOXYGEN FOR EARTH DAY 2011:

MORCHEEBA FOR EDUN LIVE – Exclusively for EDUN LIVE on YOOXYGEN, world renowned trip-hop band Morcheeba has created a limited-edition T-shirt. Designed personally by Morcheeba's lead singer, Skye Edwards, this 100% organic cotton unisex T-shirt features artwork inspired by the band's latest album, Blood Like Lemonade. Morcheeba's edition is the latest in the exclusive ever.green series for YOOXYGEN by EDUN LIVE. EDUN LIVE is part of the ethically aware clothing company EDUN Apparel, which was founded by Ali Hewson and her husband Bono in 2005. Past projects in the EDUN LIVE ever.green series exclusively for YOOXYGEN include T-shirts designed by Summer Rayne Oakes, Angela Lindvall and Elettra Wiedemann. All proceeds from this project are donated to YOOXYGEN's official eco-partner, the Green Cross International.

ESTETHICA – After the success of last year's pairing, yoox.com renews its partnership with The British Fashion Council's ethical talent showcase, Estethica. As the official online retailer of the project, yoox.com features Estethica's most innovative eco-designers, bringing the incredible work of these British talents to a worldwide audience. With sustainable collections from designers such as Lost Property of London, Nina Dolcetti, Sonya Kashmiri, From Somewhere and Goodone, among others, the Estethica project on YOOXYGEN is proof positive that green fashion can definitely be chic and cutting-edge. Founded to showcase the movement of emerging talents committed to working eco-consciously, Estethica on YOOXYGEN has evolved to become the online hub of London's ethical fashion industry.

ECO-MMERCE ON YOOXYGEN - YOOXYGEN on yoox.com is a pioneer in the newest kind of sustainable shopping: eco-mmerce. From the latest in eco-fashion, to the best in eco-conscious art and design books to the chicest in ethical design, YOOXYGEN is the premium one-stop destination for stylish and sustainable necessities. This season's newest selection offers organic cotton styles, handmade embroidered items, innovative accessories from an intriguing array of new brands and design pieces from Cappellini, Pinetti, Arabeschi di Latte and much more...

With a wide range of incredible products from the most trusted and cutting-edge of designers, YOOXYGEN's eco-mmerce space has a bit of something for anyone interested in incorporating a little ethical style into their life. For the initiative YOOXYGEN, yoox.com consolidates its relationship with Lifegate and reconfirms its commitment to the environment taking part in the Zero Impact® Project. Thanks to this special program, shopping on yoox.com is carbon free; in fact, the carbon footprint of shipping and courier services will be offset and compensated through the reforestation initiative in Madagascar. In addition, yoox.com has always used 100% recycled and recyclable materials for its packaging certified RESY.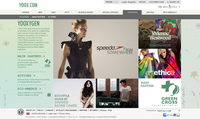 April 2011
WE LOVE JAPAN - yoox.com and 8 of the world's fashion brands join forces for Japan
yoox.com has united 8 international fashion brands together to show solidarity for Japan: Ann Demeulemeester, Antonio Marras, Dsquared2, Kitsuné, Maison Martin Margiela, Marni Moschino and Y-3 have each created unique one-off designs for a special T-shirt collection that will be sold exclusively on yoox.com.

100% of all sales of the shirts will go to the International Federation of Red Cross and Red Crescent Societies (IFRC) for the earthquake and tsunami relief efforts in Japan. Revolving around the motif "We Love Japan", each brand's interpretation is quirky and unique in its own way, while sending the message of unity towards Japan in this time of adversity.

The International Federation of Red Cross and Red Crescent Societies (IFRC) is the world's largest humanitarian network and is currently working to provide support to the Japanese population in a moment of environmental and social distress.

The "We Love Japan" T-shirts are part of the YOOX4Love series in which the far-reaching potential of the Internet is utilized to promote creative initiatives supporting international non-profit organizations.

The 8 special edition tees will be available exclusively on yoox.com at the beginning of April.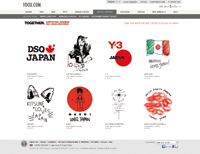 March 2011
Fake Jewels, Real Glamour: celebrating the Legendary Kenneth Jay Lane only on yoox.com
Online starting mid-March, yoox.com will celebrate the work of Kenneth Jay Lane, the legendary designer famous for taking costume jewelry from inferior imitation to knock-out fashion statement, with the sale "Fake Jewels, Real Glamour".

For the first time ever, YOOXVINTAGE will offer not only rare vintage items but also multiples of pieces so classic that they are still in production - a timeless selection showcasing the full range and enduring appeal of Kenneth Jay Lane's designs. With many pieces chosen directly from Kenneth Jay Lane's archives, yoox.com brings to the web the enduring style of the only costume jeweler whose work has been in continuous production for over fifty years.

With over 40 vintage collectibles and more than 60 newly-minted classics, yoox.com offers an iconic assortment of milestones from the jeweler's long career, all characterized by Kenneth Jay Lane's signature design excellence and fine-jewelry techniques. From a vintage multi-strand faux-pearl torsade necklace with an Art Deco clasp to a jeweled gold filigree belt to his best-selling edition of the Maltese cross cuff made famous by Diana Vreeland, this selection offers a rare overview of the remarkable scope of the world's most influential costume jeweler. Augmented with archival photos and a video interview, with signed copies of Kenneth Jay Lane's memoir, "Faking It" available for purchase, the yoox.com online event will coincide with the Norton Museum of Art's retrospective of the designer's work, in Palm Beach, Florida, from February to May 2011.

"Great style is of course timeless, and I'm delighted to see just how classic my work has been proved to be," Kenneth Jay Lane says. "yoox.com has assembled a selection that includes many of my favorite pieces from the past 50 years. At this stage in my career, it's a pleasure to be 'discovered' by a new audience and a new generation via the Internet."

"Here at yoox.com, we're all Kenneth Jay Lane fans," says Holly Brubach, Creative Consultant for YOOXVINTAGE projects, who organized the sale with Kenneth Jay Lane's cooperation. "This project arose out of our own enthusiasm and our eagerness to pay tribute to one of the great designers of our time, who is still working and has been continuously relevant. yoox.com is proud to showcase a treasure trove of KJL pieces, from one-of-a-kind vintage finds to current editions of timeless classics."

Kenneth Jay Lane's jewelry has been admired and worn by some of history's most alluring women, including the Duchess of Windsor, Elizabeth Taylor, and Audrey Hepburn. Jacqueline Kennedy asked Lane to create a copy of the necklace Aristotle Onassis gave her (the result is for sale on yoox.com).

Today, the world's most glamorous women continue to adore Lane's work, among them, it-girls like the Olsen Twins, Nicole Kidman, Sarah Jessica Parker, and Madonna. From rare vintage one-offs to perennial classics, the selection of Kenneth Jay Lane's work on yoox.com is the embodiment of his personal philosophy that "elegance, good taste and luxury never go out of style."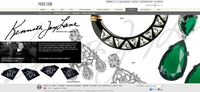 February 2011
Vivienne Westwood Ethical Fashion Africa Project exclusively online at YOOXYGEN
For the eco-friendly project YOOXYGEN, virtual store yoox.com will team up with renowned British designer, Vivienne Westwood. yoox.com will be the only online destination to feature three Vivienne Westwood shoppers created for the launch of Westwood's Ethical Fashion Africa Project. The shoppers will be available online exclusively in the YOOXYGEN section on yoox.com and viviennewestwood.com starting in February 2011.

Handmade in Nairobi, all bags are created using recycled roadside advertisement banners and safari tents by marginalized communities of women such as single mothers, widows, HIV/AIDS victims and those living in extreme poverty. Vivienne Westwood is launching the Ethical Fashion Africa Project with the International Trade Centre, the joint body of the United Nations (UN) and World Trade Organization (WTO).

The Vivienne Westwood Ethical Fashion Africa Project shoppers come in three sustainable designs: The "Get a Life" banner bag in a variety of colors, the "Purple Gaia Heart" printed on beige canvas, and the multi-colored "Orb" appliqué embroidered on khaki canvas. All will be available only in yoox.com's permanent eco-friendly section, YOOXYGEN, which focuses on providing an engaging virtual platform for ethically conscious and fashionable products, as well as featuring exclusive eco-items and special collections.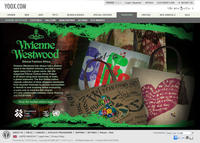 February 2011
The exclusive limited-edition t-shirt designed by MORCHEEBA by EDUN LIVE for YOOXYGEN to benefit Green Cross International
In honor of their latest album, Blood Like Lemonade, world-renowned trip-hop band Morcheeba has teamed up with EDUN LIVE to create a special limited-edition t-shirt, exclusively for YOOXYGEN.

The t-shirt, designed personally by Morcheeba singer Skye Edwards, (who recently reunited with Paul and Ross Godfrey for the creation of the band's newest album Blood Like Lemonade) features original artwork inspired by the album's cover art and title; a grid of tiny droplets in black and green. Created exclusively for YOOXYGEN, the t-shirts will be sold on the web only at yoox.com. Sale of the t-shirt on yoox.com will be accompanied by special supplemental editorial content such as an exclusive video interview with the band, images and an article on the multi-media webzine, The New Yooxer.

"The idea of the t-shirt came from the album illustrations where I changed the symbolic drop of blood from red to green, in order to give it an 'eco' touch", declares Skye Edwards.

As the latest collaboration for yoox.com's sustainable project YOOXYGEN, the Morcheeba t-shirt is also the most recent addition to the special series of collections called "ever.green" - limited edition t-shirts for both men and women, designed by celebrities and produced by EDUN LIVE, part of the ethically aware clothing company, EDUN Apparel founded by Ali Hewson and her husband Bono in 2005. Past projects in the EDUN LIVE ever.green series on YOOXYGEN include t-shirts designed by Summer Rayne Oakes, Angela Lindvall and Elettra Wiedemann.

The 100% organic cotton t-shirts in this series cover such broad themes as design, music and fashion and are available exclusively on yoox.com. All proceeds are donated to Green Cross International, an environmental non-governmental organization (NGO) founded by President Mikhail Gorbachev, partner of YOOXYGEN.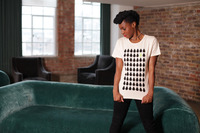 February 2011
DIRTY. The first collection from waris loves you., exclusively for yoox.com
Celebrate Valentine's Day with DIRTY., a lifestyle capsule collection from the new waris loves you. line, exclusively for yoox.com, online starting this February 2011.

Running the gamut from home goods to lingerie, the DIRTY. collection is a celebration of the fun-loving spirit that Waris Ahluwalia is known for, both as a personality and as a brand. Playful, cheeky and worldly, just like Waris himself, DIRTY is the perfect way to spread the love and make a statement. "This collection is for the wild (and ironic) at heart," says Waris. The DIRTY. collection is the first from the new waris loves you. line, which will continue to feature collaborations and other special projects.

Featuring mugs, totes, beach towels, panties, and boxer shorts in clean, easy silhouettes, as well as silver pendants and earrings, each piece in the DIRTY. collection is part social message, part risqué with coyly printed phrases such as "YES" "MORE" and "NOW.

And, adding to the frisky fun, the DIRTY. collection for yoox.com will be an interactive, virtual-playground that spreads the love with photos and a special quiz. Visitors will be invited to upload their own photos showcasing how they live "DIRTY." in the collection.

YES we want it
We want it NOW
And we want MORE
Is it DIRTY.?

waris loves you. DIRTY. Exclusively for yoox.com