January 2013
VOGUE ITALIA and THECORNER.COM present the third edition of "THE VOGUE TALENTS CORNER"
Scouting new talent is once again the pulsating soul of "The Vogue Talents Corner," a high-profile project/event created by Vogue Italia and thecorner.com that has become a key appointment during Milan fashion week. 
Now in its third season, the exhibition will showcase 11 international innovative talents specialized in apparel, footwear, jewelry and accessories selected by Vogue Italia and thecorner.com for their groundbreaking approach to fashion. As with past editions, the mission at the base of this talent scouting project is to offer the designers selected a concrete opportunity in the fashion industry by supporting the evolution of their brand on Vogue Italia and through the global exposure of thecorner.com.
The Vogue Talents Corner will roll its doors open on February 22nd at Palazzo Morando in Via Sant'Andrea with a cocktail event by invitation; from the day after it will be open to the public until February 25th. 
The designers selected to be part of the project are: Aganovich (designed by Nana Aganovich and Brooke Taylor); Aquazzura (designed by Edgardo Osorio); Daniele Carlotta; Fenton (designed by Dana Lorenz); Heaven Tanudiredja; J.JS.Lee (designed by Jackie Lee); Kirsty Ward; Kzeniya (designed by Kzeniya Oudenot); L'F Unisex (designed by Licia Florio and Francio Ferrari); Palmer//Harding (designed by Levi Palmer and Matthew Harding) and Vs2R (designed by Vincenzo Somarrelli).
The interactive presentation allows visitors to dip into the world and collections of each designer while the new Samsung Galaxy Note 10.1 tablets installed inside the venue grant direct access to purchase their SS13 collections on thecorner.com. From a design standpoint, the itinerary was conceived to create a perfect cohesion between the physical world of the creations and the location with the digital one of e-commerce.
In an innovative move, the digital dimension of thecorner.com, composed by creative graphic elements, comes to life in Palazzo Morando through a journey that every visitor will embark on.  Every designer also had the opportunity to create a digital moodboard that will reveal their unique creative visions through the Galaxy Note 10.1 that will be showcased in Palazzo Morando as well as on thecorner.com.
In addition to the SS13 collections that will be available for purchase worldwide starting from the launch of the project only on thecorner.com, each designer will also have the opportunity to present their FW 13/14 collection.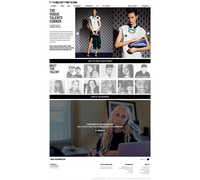 January 2013
THECORNER.COM & PITTI IMMAGINE UOMO PRESENT VESTIRSI DA UOMO (DRESS LIKE A MAN)
Starting from January 8th, in time with the opening of Pitti Immagine Uomo 83, inside the Fortezza da Basso and on thecorner.com it will be possible to discover the new Vestirsi da Uomo project, curated by Angelo Flaccavento, renowned international fashion writer.
The creation of a "unique wardrobe" composed by the essential pieces for contemporary men, is the protagonist of a special journey-installation that will be revealed in the Sala della Scherma in Fortezza and for the first time ever available for purchase in real time only at thecorner.com.
Does an ideal masculine wardrobe really exist, or is it a utopia? It does exist, actually. However, it can be interpreted in a million different ways. It's achieved by following this relativist point of view that Angelo Flaccavento, guest curator of this edition of Vestirsi da Uomo, has shaped for the project. His idea follows a scheme that is both precise and abstract: excellent pieces in a coherent choice of colors organized in tonal scales. The aim is to create, in each outfit, a polymorphous color block, relying on different shades and textures.
The choice is strict as it is playful: the amusement of mixing different textures and nuances is toned down by the choice of a single dominant hue. It can be blue, grey, natural or even winter white. Playfulness gets rational because it's the way men dress today: mixing instinct, the urge to represent themselves, a will to play and a certain calculation.
Around twenty brands selected for the project of clothing and accessories will compose the special wardrobe of Pitti Uomo according to Angelo Flaccavento. An iconic timeless piece: the guideline that has determined the choice of the pieces chosen among the Italian and international brands that best represent contemporary excellence for invention, quality and craft. A unique mix that reflects the way in which men dress today: mixing tailoring with sportswear, niche with well-known brands, with a new direction to focus on new names.
Each one will be showcased through its most iconic piece: an absolute must-have to present the "unique wardrobe" for the modern man. From the peacoat of Hentsch man to the unlined Lardini coat, from Liberty neckties to Pierre-Louis Mascia scarves, from the Camo pragmatic suit to the shirt of G Inglese, from the Borsalino hats to Grenson's chic utilitarian shoes continuing with the 24h bag of Want Les Essentiels de la Vie, to create an inspired yet pragmatic symphony: a coherent yet surprising choice to brilliantly front every situation in the modern gentleman's life, available in real time only at thecorner.com.
The project also spawned a guide for all the visitors of the Fortezza and for all the clients that will shop in the area dedicated to the project on thecorner.com: a little booklet, titled Thinker Dreamer Consumer, to be used as a how-to/vademecum to think and dream while dressing up.