November 2013
BYTE INTO ITALIAN STYLE
This Holiday Season An eclectic gift menu to suit everyone's tastes
November 2013. Guess who's coming to dinner? You are! This December, yoox.com, the world's leading lifestyle e-store for multi-brand fashion, design and art, is throwing the ultimate Italian dinner party to celebrate the holiday season, and there is a virtual seat at the table just for you.
The festivities come to life in an interactive, shoppable short film featuring five whimsical couples each of whom represents one of the five distinct themes in yoox.com's holiday gift galleries: Simply Chic, Artsy, Party, Festive Spirit, and Globetrotter. The best-dressed crowd is clad in fashion's finest brands including Dolce & Gabbana, Valentino, Golden Goose, Giambattista Valli, Marni—all expertly styled by Italian editor Viviana Volpicella. At any point in the video, customers can click on the character they love most to access a world of products hand-selected for that look.
The lively group of guests come together to share a world-class meal created and prepared exclusively for yoox.com by Michelin-star awarded Milanese chef Davide Oldani atop a fantastical table setting of all Italian-made design items, part of an endless menu of fashion, design, and art gift ideas fit for everyone's tastes – available only on yoox.com. For starters, Chef Oldani, who also stars in the short film, has devised an exclusive holiday menu made up of five, downloadable video recipes that correspond to the personalities and product galleries of the dinner guests. Eagle-eyed virtual guests may also spot a famous face or two among the gathering!
For the occasion, yoox.com debuts an exclusive look by Italian superstar designer Marco De Vincenzo as well as a capsule collection of bespoke aprons by prominent figures from the worlds of fashion, art and design including MSGM, Aquilano Rimondi, Fondazione Achille Castiglioni, Paola Navone and Trussardi, among others. Along with aprons, the designers will share their favorite recipe with yoox.com customers to try at home. Proceeds from the aprons will benefit the SlowFood Foundation for Biodiversity, a non-profit organization that promotes environmentally and culturally sustainable agriculture.
Highlights from the magnificent table setting where the guests gather include a collection of items created especially for the party: tabletop treasures from Italian tastemaker Osanna Visconti di Modrone; unique Carnevale glassware, handblown in Murano by Venini; as well as an assortment of colorful ceramic plates by artisans from the Giovanni De Simone school in Sicily. Byte into Italian Style is also the occasion for the launch of the new Missoni Home table-linen collection, a range of table cloths, napkins and runners showcasing the distinctive Missoni graphics – all created for, and available only on yoox.com. The exotic yet elegant design offerings don't stop there: Alessi and Memphis Milano by Ettore Sottsass, all join the highly selective list of made-in-Italy brands represented at the soulful feast.
The endless options for gifts doesn't stop there; there are a plethora of perfect presents for everyone on your list, and who knows, you might even find a gem for yourself along the way.
In order to capture the full 360-degree experience, yoox.com invites fans to participate in the merriment by submitting Instagram photos showing how they artfully set their own holiday table. The most well-received submission will be published on The New Yooxer, yoox.com's dedicated editorial area.
The party starts on November 11th, there's no need to RSVP - yoox.com has saved a place for you!

October 2013
YOOX.COM & FONDAZIONE ACHILLE CASTIGLIONI PRESENT ACHILLE CASTIGLIONI
A selection of new and re-edited pieces by the master of 20th century design
October 2013 - yoox.com, the world's leading multi-brand lifestyle e-store for fashion, design and art, celebrates the genius of one of the fathers of Industrial Design: Achille Castiglioni with an exclusive collection of re-edited pieces for yoox.com.
Together with the Fondazione Achille Castiglioni, yoox.com offers design lovers around the world a rare treat: 5 exclusive pieces from the studio's archive, re-edited and re-released for yoox.com.
An homage to the maestro - 5 pieces mixing re-editions and exclusive versions where each object is presented alongside exclusive archive material including sketches and images directly from the designer, offering an invaluable glimpse into Castiglioni's creative process.
- Cacciavite (1981)
The exclusive re-edition of a side table with lacquered top and 'screw in' timber legs, inspired by the form of the screwdriver (cacciavite in Italian). Currently out of production.
- Grembiule (1967)
2 playful, brightly colored work smocks, developed by Castiglioni and Max Huber on a rainy afternoon in 1967. The perfect garment to accommodate all the tools of the designer's trade. - Record (1988) o The iconic wristwatch featuring an ultra-thin black watch face inserted onto a strap in green calfskin.
- Sleek (1962 - 1996)
Half spatula, Half spoon – created by Castiglioni to help hungry design addicts. The asymmetric form allows the user to scrape the very last trace of mayonnaise, jam, peanut butter out of the jar.
- Ondula (1996)
A fruit-bowl crafted in stainless steel, The evocative form was inspired by the circular waves caused by a drop of water.
In a career spanning 5 decades Achille Castiglioni was responsible for the creation of some of most iconic pieces of design ever created, becoming one of the most influential designers of the post-war era. Castiglioni's body of work, embraced home-wares, lighting, and furniture – creations where functionality, intellectual rigor, simplicity and irony came together in the apotheosis of what good design should be.
Since the designer's death in 2002, the Foundation Achille Castiglioni carries on the spirit of his creativity, promoting, protecting and publicizing the work, process and philosophy of the Maestro, from the evocative base in Milan, in the historic home of Castiglioni's studio (Piazza Castello 27).
The Achille Castiglioni collection will be available exclusively on yoox.com from mid-October 2013.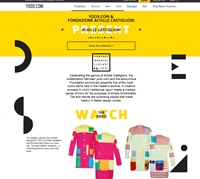 Settembre 2013
YOOX PRESENTA IL REALITY SPOT "I LOVE YOOX"
Milano, 16 settembre 2013 - Sarà on-air a partire dal 15 settembre e fino a Natale "I LOVE YOOX", la prima "campagna-documentario" di yoox.com, una serie di reality spot che partono dai commenti spontanei rilasciati dai clienti di yoox.com.
"Le clienti e i clienti sono la nostra stessa ragion d'essere: sin dal primo giorno in cui ho pensato all'avventura di YOOX, il mio primo pensiero è stata la relazione che avremmo avuto con le nostre e i nostri clienti. Una relazione fondata sulla sorpresa e le emozioni al di là dello schermo freddo e piatto. La campagna I LOVE YOOX è la naturale evoluzione di questo cammino che da 13 anni ci vede insieme, complici, coinvolti in un caldo ed autentico ascolto reciproco", dichiara Federico Marchetti, Fondatore e Amministratore Delegato del Gruppo YOOX.
Il reality spot documenta autenticamente la realtà di ciascun/a cliente in alcuni momenti della sua quotidianità, la sua reale esperienza di shopping su yoox.com, non edulcorata dal filtro della pubblicità commerciale, la sua personalità, la sua casa, la sua città, senza nessun attore, nessun copione o realtà costruita, ma mostrando solo storie reali di vita e di stile.
Per questo innovativo concept di comunicazione che usa il linguaggio web per uno spot TV è stato chiamato Luchino Visconti (nipote del celebre regista e sceneggiatore Luchino Visconti) per la produzione e Davide Gentile per la regia, un giovane regista e documentarista italiano, a conferma della grande sensibilità che yoox.com ha da sempre per i talenti emergenti.
Ciascun reality spot entrerà nella vita reale di una o un cliente, trasformandola/o in protagonista per un episodio del reality spot che altro non è che un piccolo spaccato sociologico di emozioni, desideri e talvolta piccole ossessioni delle italiane e italiani di fronte allo shopping via web.
I primi tre protagonisti del reality spot di yoox.com:
Laura, 28 anni, blogger, Milano, cliente yoox.com dal 2009 Titolo: "Il Segreto"
Pasquale, 31 anni, regista teatrale, Roma, cliente yoox.com dal 2010 Titolo: "L'Abito fa il Monaco"
Elisa, 43 anni, libera professionista, Sarzana, cliente yoox.com dal 2007 Titolo: "Ovunque, 24/7"
Al fine di selezionare i protagonisti delle prossime puntate del reality spot, yoox.com vuole coinvolgere ancora di più i suoi clienti attuali e futuri, invitandoli a candidarsi tra i prossimi protagonisti, attraverso l'invio di un video clip postato sul sito. A partire da fine settembre i contenuti più interessanti scandiranno le pagine del diario virtuale di yoox.com (http://www.yoox.com/iloveyooxtv).
Il concept innovativo di comunicazione parte in Italia e dall'Italia, ma è intenzione di YOOX di esportarlo già a partire dal 2014 ai 101 Paesi in cui è presente e amato dai suoi clienti.
September 2013
YOOXYGEN PRESENTS THE LATEST SUSTAINABLE FASHION COLLABORATION - AMBER VALLETTA | MASTER & MUSE
September 2013 YOOXYGEN, yoox.com's permanent eco-friendly initiative, launches the latest chapter in its ongoing quest to offer sustainable style options for eco-savvy shoppers around the world. This Fall the spotlight will be on Amber Valletta - fashion icon, actress and humanitarian, whose face has graced covers of the most prestigious fashion magazines worldwide for over 2 decades.
Exclusively on yoox.com, Amber is launching an exciting new brand, Master & Muse. The mission of Master & Muse is to offer socially responsible fashion that is stylish, exciting, desirable and thanks to the global reach of yoox.com, accessible worldwide.
Since 2009, YOOXYGEN is the internet's foremost proponent of eco-commerce and ethical elegance: a dedicated space promoting an environmentally sustainable lifestyle through a selection of eco-friendly fashion, design, jewelry and books alongside special features and exclusive video content.
Amber Valletta: "I am thrilled to be collaborating with yoox.com to make this mission a reality. YOOXYGEN, with its commitment to sustainability and socially conscious fashion matches the core values of Master & Muse. With this collaboration, fashionistas everywhere are going to experience that it is fashion forward to buy better."
Exclusively on YOOXYGEN, Master & Muse, offers a curated selection of socially and environmentally responsible fashion from a range of international brands, all hand-picked by Amber especially for this initiative Clothing and accessories that are sustainable and stylish; responsible and refined; conscious and coveted.
For Fall/WINTER 13|14 Master & Muse evokes contrasting images of femininity revolving around the images of the Master and the Muse: the Master is characterized by strong sartorial statements, graphic splashes of color and timeless prints while the Muse is suggested through softer lines, playful textures, and an artful use of layering.
Amber's selection of socially responsible brands is the result of combing the globe for the very best in fashion-forward sustainable style, including zero waste ready-to-wear from 100% New York; thoughtfully crafted separates by M. Patmos; footwear in vibrant colors crafted in ecological, non-toxic materials from Guava; luxurious sustainable jewelry by Melissa Joy Manning and outerwear and accessories crafted in up-cycled leather by The Sway and many more…
YOOXYGEN will internationally debut the Master & Muse FW 13|14 selection by Amber Valletta exclusively for yoox.com in mid-September 2013.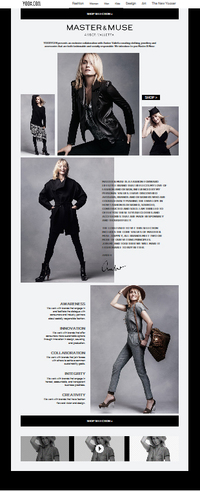 May 2013
YOOX.COM AND IL CREPACCIO PRESENT PADIGLIONE CREPACCIO AT YOOX.COM - THE'VENETIANS'
Where are the 'Venetian' artists during the Venice Biennale? Can anyone see them? Distracted by international art superstars and glamorous events, few people pay attention to Venice's lively local art scene.
This year, during the 55th International Art Exhibition – The Venice Biennale, yoox.com, the world's leading virtual store for multi-brand fashion, design and art, joins forces with Il Crepaccio (literally meaning the crevasse) – the much talked-about showcase for emerging artists, based in a Milanese restaurant frequented by Maurizio Cattelan – to offer global visibility to a group of young Venice-based artists through the project Padiglione Crepaccio at yoox.com.
An exhibition presenting simultaneously the works of the 'Venetians' on two stages: both online and in the real world. During the three preview days of the Biennale, they will be on display in the evocative context of an authentic artists' house – the 17th century Ca' Soranzo, behind Teatro La Fenice - while, at the same time, the works will be for sale globally, exclusively on yoox.com, for the entire six-month duration of the Biennale.
The selected young artists who will have the chance to show their work to the international audience present in Venice, alongside the millions of global visitors of yoox.com are: Thomas Braida (1982), Fabio De Meo (1986), Marco Gobbi (1985), Massimiliano Gottardi (1989), Luca Migliorino (1988), Valerio Nicolai (1988), Barbara Prenka (1990), Valentina Roselli (1986), Caterina Rossato (1980) and Serena Vestrucci (1986).
The Padiglione Crepaccio at yoox.com:
* in Venice will be open to invited guests during the preview period of the Biennale (May 29 - 31, from 10am to 10pm) in a real Venetian artists' house, allowing visitors to gain a rare glimpse into the daily lives of local artists.
Each day from 1 to 3pm a brunch will be held in the space, with the participation of a special guest editor: • Wednesday May 29: Stefano Tonchi (editor W Magazine)
• Thursday May 30: Roberto Zancan (deputy editor Domus)
• Friday May 31: Linda Yablonsky (contributing writer Artforum.com, The New York Times…)
An opportunity to create new synergies between the local artistic community and the wider international art system.
* on yoox.com the works by the 'Venetians' will be on show and available for purchase exclusively, for the entire duration of the Biennale (May 29 to November 24, 24/7) - a contemporary reference to the fact that it was originally possible to buy the works on display at the Biennale. The works on show can also be purchased in real time using the tablets positioned throughout the house. The Art area on yoox.com will also offer exclusive behind the scenes images and information about the artists and their works.
In a further demonstration of the synergy between the physical and virtual, local and global, yoox.com will also host a live event on Google+: The Padiglione Crepaccio at yoox.com will be live from Venice, around the world. Visitors to the exhibition can use the smartphones provided to take and upload photos of the show in real time, allowing 'virtual guests' around the world to enjoy the exhibition through the eyes and images of visitors to the Padiglione in Venice.
To attend the event 'online' -> http://bit.ly/PCY2013 # artatyoox
A strong international presence and extensive distribution network puts yoox.com in a position to offer invaluable exposure and opportunities to emerging talents from Italy and beyond – a global showcase for talent: first in fashion then design and now, following the launch of Art at yoox.com last October, in contemporary art. Helping the very best creative endeavor reach a worldwide audience has been a central aspect of yoox.com since its foundation in 2000, and the innovative project Padiglione Crepaccio at yoox.com during this year's Venice Biennale marks an exciting new chapter in yoox.com's ongoing support for creativity and emerging talent.
The May issue of Domus - the international architecture, art and design magazine, features an article dedicated to the Padiglione Crepaccio at yoox.com in the form of a conversation between Caroline Corbetta and Maurizio Cattelan. The article will be printed in a special supplement version and distributed to members of the public in the Giardini and in the Padiglione during the opening days of the Biennale.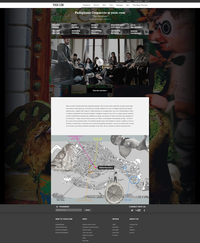 May 2013
CHIODO BY OSANNA VISCONTI DI MODRONE - A CAPSULE COLLECTION OF JEWELRY EXCLUSIVELY FOR YOOX.COM
May 2013 - yoox.com presents a unique collection of jewelry created by Osanna Visconti di Modrone, the acclaimed designer whose works adorn the wrists and necks of the world's most discerning women.
Exclusively for yoox.com Osanna has created Chiodo - a capsule collection of pieces comprising a bracelet, earrings and necklaces based on the form of the hand-forged nail – the ancient symbol of strength and practicality, famously co-opted by the underground punk counterculture movement in 1970's Britain. Osanna takes this form and renders it contemporary and feminine.
100% Made in Italy, the Chiodo collection is hand crafted in bronze, each element is hammered and finished by hand before being soldered together and signed by the designer. The pieces are then brushed to obtain a muted luminescence which recalls the luster and humility of ancient artifacts.
"For the exclusive collection created for yoox.com, I decided to let my hands do the talking; a nail can generate so many ideas: from visions of a carpenter to a punk, blurring the line between art and craft and hopefully tweaking the imagination." stated Osanna Visconti di Modrone.
Craftsmanship, originality and a focus on materials combined with unique forms - the Chiodo jewelry is the perfect addition to any look – from an impeccable tailleur to club-ready street-style.
Jewelry as sculpture – Osanna's work is imbued with a strong artistic influence, dating back to her childhood days, spent dressing up in jewels created for her mother by artists like Lucio Fontana, Mario Ceroli and Arnaldo Pomodoro.
The Chiodo collection is available exclusively on yoox.com, from mid May 2013.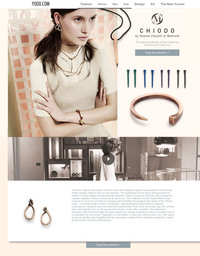 April 2013
YOOXYGEN Celebrates Earth Day 2013
April 2013 - This year YOOXYGEN, the on-going eco-friendly initiative of YOOX Group - the global Internet retailing partner for leading fashion & design brands - celebrates earth day once again with exciting exclusive projects and a fresh, new, green look, online at yoox.com.
Since 2009, YOOXYGEN has lead the way in eco-commerce with projects promoting eco-friendly fashion and lifestyle. For 2013 updated graphics, new brands and two exclusive projects confirm yoox.com's ongoing dedication to the cause: Two exclusive t-shirts by Generation Pacifique and a capsule collection by IOU Project created exclusively for yoox.com.
Costa Rican clothing brand, Generation Pacifique, together with publishing house/gallery Le Dictateur have designed 2 t-shirts exclusively for yoox.com featuring drawings by Matteo Nuti and Pierpaolo Ferrari, recreating All – the retrospective work by acclaimed Italian artist Maurizio Cattelan created for the artist's 2011 exhibition at New York's Guggenheim Museum. The T-shirts are crafted from 100% environmentally sustainable bamboo fabric and solvent free ink, and are completely bio-degradable.
Net proceeds from the sale of the Generation Pacifique t-shirts go directly to Green Cross International, YOOXYGEN's official partner, towards their initiative Smart Water for Green Schools an 'on-the-ground' activity providing sustainable access to safe drinking water and sanitation to tens of thousands of people in Ghana and Bolivia.
Completing the Earth Day celebrations – YOOXYGEN presents a unique collaboration with super-trendy eco-Brand IOU PROJECT: a capsule collection of men's and women's pieces, perfect for lovers of easy, eco-elegance and available exclusively at yoox.com. Shirts, shorts trousers and tops all ethically produced from ecologically sustainable materials: 100% traceable.
The fabric used in the IOU collection is all hand-milled in India by a network of local craftsmen who collaborate in an ongoing capacity with the brand. These fabrics are then crafted into relaxed and stylish garments and accessories by craftsmen in Europe. The resulting pieces are fresh, fashion forward and friendly to the planet. Each piece is handmade, completely unique and based on the brand values of authenticity, transparency, uniqueness and both social and environmental responsibility.
The new-look YOOXYGEN will be live on yoox.com from April 22 2013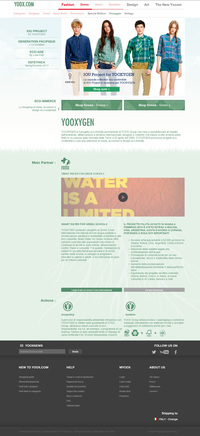 March 2013
TECHNOBOHEMIAN BY JOHN MALKOVICH THE MEN'S BEACH-WEAR CAPSULE COLLECTION
March 2013 – In time for summer 2013, the award winning actor, producer, director and arbiter elegantiarum John Malkovich launches an exclusive Men's beachwear capsule collection produced by his brand Technobohemian, exclusively for yoox.com.
Transoceanic elegance meets quality 'Made in Italy' in the Technobohemian capsule collection. Malkovich mixes simple, relaxed shapes with exquisite fabrics sourced from some of Italy's finest textile mills to create the perfect summer-time wardrobe for bons vivants everywhere.
From poolside to cocktail hour – the capsule collection offers sartorially inclined gentlemen in over 100 countries the perfect garment for every occasion: from unstructured jackets, Bermuda shorts, shirts and trousers, to polo-shirts, swimming costumes, shoes and accessories – all crafted from the finest linens, leathers, seersucker and cotton.
John Malkovich: "This capsule collection for yoox.com is based on my drawings. I always mistrust anyone describing to me what they have done, what it means, and what I should feel about it, so I assume others feel that way also. However, I will try to describe it as simply as possible. This is a small collection of light, wearable summer clothing and accessories, from some of our favorite fabric mills in Italy. Some are colorful, some are more discreet. The fit is comfortable and not overly structured, and hopefully easily paired with most anything"
In an exclusive interview with yoox.com, John Malkovich talks about his inspiration, his personal sense of style and offers visitors a rare glimpse into the creative mind's eye of this modern-day Renaissance Man.
The Technobohemian by John Malkovich capsule collection will be available online, exclusively on yoox.com from mid-March 2013.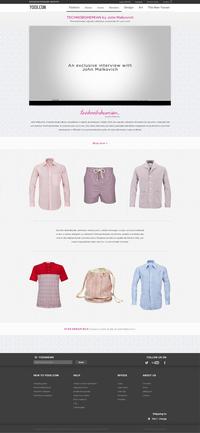 February 2013
A STYLISH & SUSTAINABLE SUMMER SPRING SUMMER 2013 BY ECO-AGE and LIVIA FIRTH
YOOXYGEN, yoox.com's eco-friendly initiative, presents the latest selection of ecological and ethical fashion and accessories as chosen by Livia Firth for the Eco-Age shop in shop on yoox.com
In her unofficial role as champion of eco-style, Livia Firth dedicates to turning the world's red carpets green with her unique vision of a more ethical, environmentally aware and sustainable approach to fashion. Thanks to an intensive and ongoing process research into new brands, meeting producers and verifying production materials and manufacturing techniques, Livia has put together a selection of wardrobe ready pieces, from both established eco brands and smaller niche labels.
The ECO-AGE spring-summer 2013 witnesses the return of a number of Livia's favourite brands – as part of her vision for the essential eco-elegant summer wardrobe - among the brands returning to the Eco-Age selection: Sustainable Après Soleil style by Beach Candy; African-made bags by Italian brand Carmina Campus; eco-accessories by Kayu; ethically produced lingerie by Charini and Lady-like style from the London based Henrietta Ludgate.
Among the new eco-brands for Spring Summer 2013
Mich Dulce The Mich Dulce brand is dedicated to promoting Filipino craftsmanship and creativity through millinery, using traditional, locally sourced materials. By working with traditional fabric woven by different ethnic groups in the Philippines, Mich aims to promote and preserve the Filipino heritage and culture through modern and eccentric headpieces and accessories.
Sunshine Cunningham Swedish brand of high luxury handmade bags, Sunshine Cunningham bags are made with the finest quality Swedish leathers. Leathers are colored using low-impact vegetable dye and are allergy-free.
The Eco Age by Livia Firth Spring Summer Selection will be available on yoox.com from mid February 2013.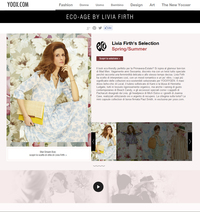 January 2013
RIPPLING ORCHID MELODY Everyday Couture Jewelry by Yi Zhou Exclusively for yoox.com
Renowned Chinese multimedia artist Yi Zhou has created a collection of jewelry exclusively for yoox.com, available on line from January 2013. The collection of 'affordable couture jewelry' was designed by Yi Zhou in China and is made up of a ring, a bracelet, earrings, a brooch and tiara and crafted in France by renowned couture jewelry maison Gripoix.
The collection was created using colored glasses and metal, drawing inspiration from the well-known Chinese poem 'Rippling Orchid Melody' and plays with the contrast between hollowness and solidity, with orchid color tones in glossy blue and strawberry red.
Accompanying the collection, The artist has also interpreted the jewelry in a performance video shot in a Victorian house in LA: its manifestations and style are an explicit homage to Yoko Ono, Francesca Woodman, Francis Bacon and Pina Bausch. The video showcases a relaxed approach to luxury, emphasizing street-style and a sense of understated cool. This new interpretation of hippy culture is also explored in the photo campaign, where the colors of the jewelry take center stage and Yi Zhou takes her couture jewelry to the streets of Malibu, Beverly Hills and Hollywood.
The perfect gift for Valentine's day, Yi Zhou's Rippling Orchid Melody collection is available exclusively on yoox.com from the end of January.