November 2012
THE TUXEDO - KRISVANASSCHE FOR THECORNER.COM
November 2012 - thecorner.com presents the contemporary version of the most elegant suit for men: the tuxedo by Kris Van Assche. The renowned designer has created a tuxedo reinterpreted with a modern touch exclusively for thecorner.com.
The tuxedo consists of a navy blue two-button jacket with a contrasting black satin collar and waistline darts at the back, as well as navy pleated trousers with a black waistband and black satin stripes.
"Never totally tailoring, never totally sportswear: it's all about balance, being able to go anywhere, anytime", says Kris Van Assche.
Kris Van Assche was born in Belgium in 1976. Having worked for Yves Saint Laurent and then Dior Homme, he started his own label, KRISVANASSCHE in January 2005. He has also been the Artistic Director for Dior Homme since April 2007.
The tuxedo will be available exclusively on thecorner.com starting from the end of November 2012.
September 2012
THECORNER.COM PRESENTS THE FIRST RETAIL SPACE DEDICATED TO THE ANDAM FASHION AWARD
September 2012 – thecorner.com launches the digital chapter of the collaboration with the Andam Fashion Award. As the Exclusive Online Retail Partner of the initiative, the luxury online boutique thecorner.com creates the first exclusive online retail space dedicated to the six finalists of the Award: Julien David, Vika Gazinskaya, Cédric Charlier, Calla Haynes, Thomas Tait and Nicolas Andreas Taralis.
Starting from the end of September, thecorner.com presents an exclusive area online dedicated to showcase the Fall/Winter 12 women's collections of the designers alongside a special editorial shooting to present the creations of the designers.
thecorner.com teams up with the others partners of the Andam Fashion Award — Yves Saint Laurent, Longchamp, LVMH, Galeries Lafayette, the Pierre-Bergé-Yves Saint Laurent Foundation, Swarovski, Only The Brave, Hudson's Bay Company — to select the finalist of the Award and the winner of this edition: Julien David; the designer and his collections have already been available on thecorner.com for a few seasons.
Since 1989, thanks to the faithful support of its president M. Pierre Bergé, the DEFI, the French Ministry of Culture and Communication and its private sponsors, ANDAM has dedicated itself to identifying, promoting and financing the most promising designers, contributing to the vitality and international preeminence of the Paris fashion scene. Having awarded the most talented names of contemporary fashion such as Martin Margiela, Viktor & Rolf and Christophe Lemaire, ANDAM has established an indisputable legitimacy through the years and has built a worldwide recognition, being considered one of the most prestigious fashion prizes in the world.
thecorner.com confirms its commitment to promoting talent, creating important collaborations with institutions around the world from the CFDA/Vogue Fashion Fund to The Vogue Talents Corner and the Andam Fashion Award. thecorner.com offers these designers exposure in over 50 countries, through a concrete opportunity to meet their clientele and discover diverse markets, understanding the preferences of local people around the world.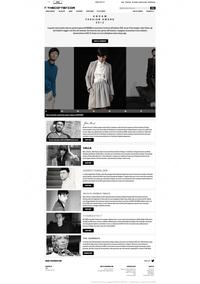 September 2012
LIFESTYLE MIRROR AND THECORNER.COM UNVEIL "DESIGNERS & THEIR MUSES" - THE SPECIAL EDITORIAL SPREAD AND VIDEO SERIES TAKES AN INTIMATE LOOK AT THREE MUSES AND THE DESIGNERS THEY INSPIRE
Lifestyle Mirror, the online destination for stylish living, in collaboration with thecorner.com, the luxury online boutique, unveils today "Designers and their Muses," a special three-part series that takes a sneak peak into the lives of three fashionable women and explores their roles as muses and sources of inspiration to three different fashion designers.
The series features Lissy Trullie, Sara Moralioglu and Jessica Gough, three dynamic women, and the three talented designers they (respectively) inspire: Phillip Lim, Erdem Moralioglu and Giles Deacon. The relationship between muse and designer is explored in a special editorial spread of images accompanied by footage of the muses in the studio with their designers.
As a singer/songwriter Trullie has served as a fountain of musical inspiration for Lim. Sara's role as a muse to her brother Erdem has been a lifelong experience. And Jessica Gough went from Deacon's intern to muse in just a matter of months. With an ethos of search and discovery, Lifestyle Mirror and thecorner.com present the spread to give readers a peek into the special dynamic between the inspiration and the inspired.
"Muses are often referenced but rarely understood," says Lifestyle Mirror's VP of Fashion and Accessories Amalia Keramitsis. "We really wanted to explore and showcase the subjects that hold captive the imagination of these three designers."
The full story launches today on lifestylemirror.com and simultaneously on thecorner.com and features the muses wearing each designer's best looks for the season, available instantly for purchase on thecorner.com.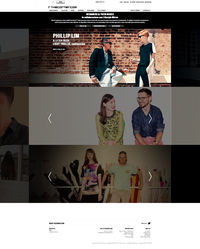 September 2012
THECORNER.COM & 10 CORSO COMO: FROM EARTH TO AIR
Milan, September – thecorner.com and 10 Corso Como have joined together to bring the global digital community into a new shopping experience through a window dedicated to 10 Corso Como on thecorner.com.
This collaboration will be celebrated during Milan Fashion Week with a cocktail event hosted by thecorner.com and 10 Corso Como. The fusion of "Earth & Air" - the reality of the world of the 10 Corso Como store in Milan and the global digital dimension of thecorner.com - creates a special union between the two.
The iconic signature graphics of 10 Corso Como were customized for the occasion, and special elements were created by Kris Ruhs - the American artist who designed the 10 Corso Como black and white logo - to offer the unique touch of 10 Corso Como on thecorner.com.
A limited edition shopping bag adorned with the graphic "From Earth to Air" created for the project will be offered to all guests at the party and to all customers shopping on thecorner.com. This shopping bag can be easily filled with an array of unique and eclectic creations that define the 10 Corso Como shopping experience. Online customers will be able to discover the exclusive collaboration items of 10 Corso Como with famous co-brands like Borsalino, Mackintosh, Moncler and more, as well as all 10 Corso Como branded products in a dedicated area online.
thecorner.com will premiere a retrospective video about 10 Corso Como, narrated by founder Carla Sozzani who will introduce this new digital journey.
To celebrate this leap "From Earth to Air", Maison Martin Margiela, a brand recognized for its avant-garde innovations, has created a special limited edition piece that will be available exclusively on thecorner.com.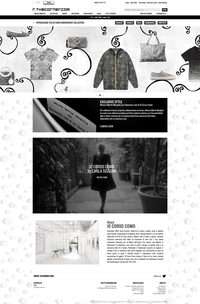 June 2012
PITTI: AS IF YOU WERE THERE - Discover the latest trends with thecorner.com
thecorner.com – exclusive retail partner of Pitti Immagine – opens the doors to Fortezza da Basso to all of its customers thanks to an interactive video journey inside Pitti Immagine 82.
Starting from June 19th, for the first time ever thecorner.com will offer an interactive voyage into Fortezza da Basso, a unique tour inside the fair to discover the latest trends of Spring/Summer 13. The online boutique will allow visitors to enter the palace and create their own path: a 360° experience of the space dedicated to each designer, the opportunity to pass from one designer's corner to another, or even the possibility to buy their latest collections available on thecorner.com.
AI_Andrea Incontri, Alberto Guardiani, Borsalino, Bruno Bordese, Orlebar Brown, Our Legacy, TS(S) and Want Les Essentiels de la Vie are the protagonists of this interactive voyage signed by thecorner.com.
Once again, the online boutique will also dedicate special attention to the guest designers, Peter Pilotto and Carven, whose collections have been present on thecorner.com for several different seasons. Ad-hoc content, exclusive videos, special events and interviews with the designers will present this edition of Pitti Immagine and its guests on a global stage through the windows of thecorner.com.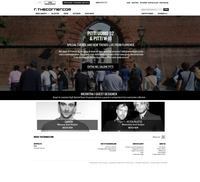 May 2012
UMIT BENAN'S LIMITED EDITION T-SHIRT EXCLUSIVELY FOR THECORNER.COM
May 2012 – Milan-based Turkish designer Umit Benan signs the 5th edition of thecorner.com t-shirt project. Playing with the logo of thecorner.com, one of the designers featured on the online boutique creates a limited edition t-shirt that is gifted to the clients of thecorner.com each year.
thecorner.com selects one designer to create a unique t-shirt that becomes a special signature creation by one of the most avant-garde designers. In the past Jun Takahashi for Undercover, Neil Barrett, Hussein Chalayan and Les Hommes have participated in the t-shirt project, each one interpreting thecorner.com logo with their own personal touch.
2012 is the year of Umit Benan, whose eclectic approach creates a singular design vision. The t-shirt, characterized by a classic "boyfriend" style, features an all over-print of the geometric pictogram logo of thecorner.com in black against a grey background. The front is fully dedicated to thecorner.com's icon and the back is signed with the designer's logo. The tag inside of the t-shirt is also personalized with the signature of the project: "Umit Benan for thecorner.com".
Drawing from his international background, Umit Benan's creative vision takes its cue from the beautiful details of everyday life. His design objectives are based on iconic looks created by wearable fabrics and impeccable fit: "The starting point was to follow the brief very literally by incorporating thecorner.com's logo on a simple t-shirt; we wanted to avoid any references to 90's logo mania, and create quite an abstract print where the logo is not instantly recognizable", said Umit Benan.
Starting from May 8th, thecorner.com will offer the limited edition t-shirts as a gift to customers who purchase on the online boutique.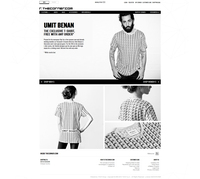 March 2012
CHRISTOPHE LEMAIRE DEBUTS ON THECORNER.COM WITH AN EXCLUSIVE CAPSULE COLLECTION "RADICAL SIMPLICITY" FOR THE PERFECT SUMMER
Starting from mid-March, Christophe Lemaire's innovative yet timeless concept of "garde-robe" debuts on thecorner.com with a special project for spring summer 2012.
Lemaire's foray on thecorner.com is crowned by the "Radical Simplicity" capsule collection for men and women. The Capsule presents a very concise and essential set of six shapes in timeless black and white conceived to be mixed-and-matched in countless combinations: two spring summer 2012 shapes in exclusive fabrics as well as four signature pieces in cotton crepe, as light as a breeze.
Zouave inspired pants with generous pleats and a knotted blouse all in cotton ensure the perfect summer uniform. A kaftan with a shawl collar brings a monastic comfort.
A blouse with an elastic waistband and covered snaps doubles as an ultra-light blouson for mild evenings while an asymmetrical shirt and a highwaisted pants recall the sophisticated ease and new-wave elegance proper to the label.
The same notion runs through Christophe Lemaire's SS12 collection, available on the exclusive thecorner.com mini-store dedicated to the French designer. The spring-summer 2012 collection nourishes the fantasy of a light suitcase, filled only with the bare essentials: complementary, convertible, and modular, for a journey to a tropical country during the monsoon season, tinted with new-wave beats and the sound of copper percussions.
Every season, Christophe Lemaire refines a timeless and convertible garde-robe comprised of exigent fundamentals and iconic pieces of comfortable volumes. He solves the equation of a garment that could be entirely adopted by a variety of individuals on the quest of both singular and quiet pieces. Continuously striving against ephemeral fashions, Christophe Lemaire attracts the attention and loyalty of demanding individuals, thanks to a respectful communication and collections generating meaning.
"A well-proportioned garment, in the right fabric, with the right cut and not too 'fashion' doesn't need to be redesigned every season, but the puzzle around it should simply be reinvented to make it more exciting: it is a question of common sense and I have a feeling that we are finally getting back to it," says Christophe Lemaire.
thecorner.com will introduce the designer through an exclusive video that unveils more details on this special project with the French designer.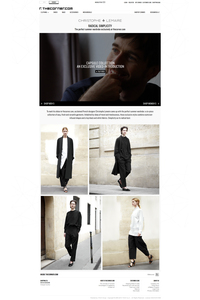 February 2012
VOGUE ITALIA and THECORNER.COM present "THE VOGUE TALENTS CORNER" - a new multimedia event to unveil talent
Vogue Italia and thecorner.com are pleased to announce the second edition of "The Vogue Talents Corner," a project aimed at promoting new international talent through e-commerce. An innovative itinerary to uncover 11 designers, carefully selected from all over the world by Vogue Italia and thecorner.com, who will showcase their apparel, accessories and jewelry collections during a prominent and high-profile appointment throughout Milan fashion week.

The exhibition will be held at the sumptuous Palazzo Morando, on Via Sant'Andrea, and will be inaugurated on February 23rd at 7 pm with an exclusive cocktail. Starting on the opening night and for the next four days (February 24th-27th) from 9 am to 7 pm, the doors of Palazzo Morando will roll open to anyone eager to learn more about the protagonists and their work.

"Nationality is not indicative of the creative capacity of young designers. For the second edition of The Vogue Talents Corner project, in fact, we have selected eleven young designers from all over the world to present their collections at Palazzo Morando during Milan fashion week. Thanks to this collaboration with thecorner.com, the clothing, accessories and jewelry of the Spring/Summer 2012 collection, on display next to the Fall/Winter preview, can be purchased online at thecorner.com from all over the world and also directly from Palazzo Morando during the event, which is open to everyone throughout the course of the event", declares Franca Sozzani, Editor-in-Chief of Vogue Italia.

"The future is in the hands of today's youth, as my company demonstrates, and we need to give them the space to grow and shine. Franca Sozzani and I came up with the idea for The Vogue Talents Corner to bring fashion's young talents into the spotlight, making them accessible anywhere, anytime even on tablets and mobile devices, thanks to the virtual shop window of thecorner.com", contends Federico Marchetti, Founder and Chief Executive Officer of YOOX Group.

The designers selected are: AI_Andrea Incontri, Pedro Lourenço, Leitmotiv (designed by Fabio Sasso and Juan Caro), Benedetta Bruzziches, C.B. Made in Italy (designed by Cecilia Bringheli), Mungo Gurney, Vernissage (designed by Ilenia Corti and Matteo Mena), Joanne Stoker, Shourouk (designer by Shourouk Rhaiem), Hexa by Kuho (designed by Kuho Jung) and Ricostru (designed by Riko Manchit Au).

The creative concept of the showcase revolves around dedicated corners where each designer will display the collection, which thanks to interactive videos and tablets can be purchased live on thecorner.com starting on February 23rd. thecorner.com, in fact, will feature an area dedicated to "The Vogue Talents Corner" project to present the creations of the selected designer, serving as a global window available in over 50 countries as well as on the iPad, iPhone and Android.

The event is sponsored by Samsung, which has provided the Galaxy Tab 10.1 to directly connect to thecorner.com and the TV screens.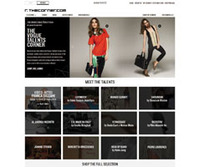 February 2012
STYLING IN PARIS - A trendy fashion story shot by Olivier Zahm with French artists and fashion personalities for thecorner.com
thecorner.com renews its virtual windows through the sixth edition of the Styling Around the World project, this time in Paris with the exclusive collaboration with Olivier Zahm and Purple Fashion Magazine. The overall concept behind Styling Around the World is to seasonally update thecorner.com's virtual windows with exclusive, avant-garde photo shoots conceived by top international stylists, who mix-and-match a host of men's and women's brands available on thecorner.com.

For the Spring/Summer 2012 season, French editor and photographer Olivier Zahm zooms in on a mixed fashion and art crowd – the designers of the French fashion brand Piece D'Anarchive Deborah and Priscilla Royer and Virginie Muys; artist and fashion designer Cédric Rivrain; the artists Samuel Boutruche and Benjamin Moreau from the French art collective Kolkoz; Catherine Baba, stylist for Chanel, Givenchy and Balmain.

The result is 10 images and a backstage video that will go live on thecorner.com on February 8th when the SS 12 issue of Purple Fashion Magazine hits the newsstands. Purple Fashion Magazine is an international fashion, art and culture title established in 1992 by Olivier Zahm and Elein Fleiss.

The set for the shoot features two gray walls forming an acute angle that was inspired by the creative vision of the influential French artist Marcel Duchamp and interpreted by Irving Penn, and serves as a clear reference to thecorner.com. Enveloped by a soft light, these Parisian personalities pose in the corner wearing clothes from top fashion houses available on thecorner.com: Haider Ackerman, Ann Demeulemeester, Gareth Pugh, Mugler, Rick Owens, A F Vandevorst and Marialuisa Paris for women and Kris Van Assche, Paul Smith, Dries Van Noten, Band of Outsiders, Raf Simons, Sacai, Adam Kimmel and Neil Barrett for men. The caption for each image also contains information on the people featured.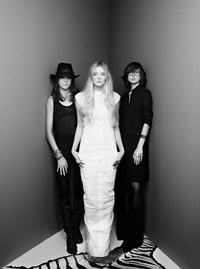 January 2012
THECORNER.COM PRESENTS VALENTINO UOMO WITH "RESERVE FROM THE RUNWAY"
Be the first to book your favorite looks by ordering on thecorner.com directly from the Pitti show

Valentino Uomo, Special Guest of Pitti Immagine, presents worldwide on thecorner.com an exclusive project linked to the A/W 2012-13 collection that will be unveiled on January 11th.

"Reserve from the Runway": a selection of clothes and accessories from the A/W 2012-13 Valentino Uomo collection will be available to reserve on thecorner.com starting from January 12th.
The "Reserve from the Runway" feature is also available on the iPad, offering thecorner.com's customers the privilege of reserving and receiving before anyone else their favorite items from the unique collection designed Maria Grazia Chiuri and Pierpaolo Piccioli, Valentino's Creative Directors.

This project further consolidates the longstanding partnership with Pitti Immagine and thecorner.com, which dedicates a special area to the Guest Designers of the international fair each edition.