December 2012
FROM BEIJING WITH STYLE
December 2012 – yoox.com joins forces with two of the internet's biggest style icons in a unique global celebration of fashion and individuality. Exclusively for yoox.com, Superstar bloggers Susie Lau and Han Huohuo came together in Beijing to talk fashion and curate a selection of fashion-forward looks, just in time for the party season.
Susie and Huohuo have hand-picked the best and 'bloggiest' pieces from yoox.com and yoox.cn for both men and women. Visitors can shop from the selections secure in the knowledge that the clothing, jewelry and accessories are all certified 100% fabulous by these two cutting edge fashion authorities.
To complete the experience, yoox.com presents an exclusive photo-shoot showcasing the bloggers in action modeling the looks, alongside a video conversation where the two compare notes and ideas on style, individuality and the joys of online shopping.
In recent years Lau, the London-based blogger better known as Susie Bubble has become one the fashion world's most authoritative commentators, recognized for her irreverent approach to styling and her keen eye for young talent. Lau contributes to a number of leading industry publications.
Han Huohuo is one of China's most influential fashion bloggers. From his base in Beijing he is a frequent fixture at front-rows in Paris, New York and Milan. With over 1.3 million readers per month, Han has built up a massive fan-base as well as working as stylist to a number of leading Chinese celebrities.
The exclusive photo shoot and video were created under the watchful eye of Mega Mengmeng, one China's most sought after fashion stylists and writers. Mengmeng has made a name for herself thanks to her distinctive personal esthetic and her passion for avant-garde fashion trends.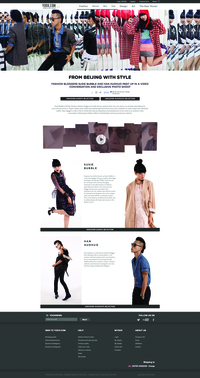 November 2012
THE WORLD (AND WARDROBE) OF MARGHERITA MACCAPANI MISSONI
NOVEMBER 2012 - "Life is a constant give and take - the objects we have, in fact, never really belong to us, we're just keeping them for their next owner."
This November, in time for the holidays, yoox.com offers fashion lovers the chance to enter into the world (and wardrobe) of one of the most respected and admired fashion socialites – Margherita Maccapani Missoni. The latest generation of the historic Missoni family, alongside her role as designer and muse, Margherita dedicates time and commitment to her role as President of the Italian Chapter of the charity OrphainAid Africa.
In an international exclusive, yoox.com, presents customers in over 100 countries with a selection of over 70 vintage pieces selected from Margherita's personal wardrobe - a unique collection of evening gowns, day-dresses, separates and accessories - cherished and worn by Margherita over the last decade.
"Sometimes life has really been too generous with me, this is definitely the case with clothes: I love them so much, they are one of my great passions and I have looked after them with great care, but now it's time to release them and the energy which surrounds them (if not, I would need life to be just as generous in terms of closet space, homes even more patience from my husband .....)"
Proceeds from the sale of these pieces will be devolved directly to OrphanAid Africa to help families of children at risk of abandonment and offer them secure futures within their communities.
"I've been working with OrphanAid for almost 10 years, and I am constantly looking for new ways to raise funds to support this wonderful organization. So when these two ideas came together in my little head, I could not help but wonder why I hadn't of this before! Well, better late than never!"
In an exclusive interview Margherita tells the story behind her favourite pieces, what they mean to her and where she wore them first. This, together with an exclusive photo shoot featuring Margherita modeling the garments, offers Missoni-fans a once in a lifetime glimpse into the glamorous life and unique style of Margherita Maccapani Missoni.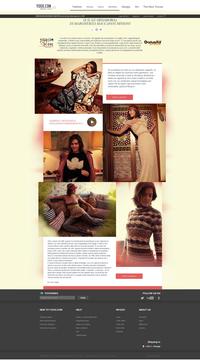 October 2012
Grand Opening yoox.com in China: Naomi Campbell and Fashion For Relief celebrate the launch of yoox.cn
30 October 2012 – To celebrate the launch of yoox.cn in China, yoox.com , Naomi Campbell and Fashion For Relief have teamed up with some of the biggest names in the fashion world to create a capsule collection of t-shirts celebrating 'The Middle Kingdom', with proceeds going to Fashion For Relief's work with international charities.
6 T shirts – 6 designers – 1 theme – China: internationally renowned brands and Chinese designers 3.1 Phillip Lim, Dolce & Gabbana, Masha Ma, Moschino, Qiu Hao and Fashion For Relief put their creativity to work, creating 6 unique, one-off designs for a special T-shirt collection sold exclusively on yoox.com.
To celebrate this stylish initiative fashion addicts world-wide can enjoy an exclusive photo-shoot and video interview with Naomi Campbell, as well as pick up insider fashion tips from the Supermodel thanks to Naomi's Star Dream Box.
Founded by Naomi Campbell in 2005, Fashion For Relief aims to mobilize the fashion industry in support of humanitarian causes, organizing events involving international stars around the world and raising millions of dollars for trusted charities to help people in need.
Since its conception, Fashion For Relief has presented events in New York, London, Cannes, Moscow, Mumbai and Dar Es Salaam, and has raised millions of dollars for various causes and aided people in need around the globe.
Naomi Campbell "I think China is absolutely one of the world's creative hot spots now...many people in fashion are running to China. Fashion For Relief wanted to do something that stays in China, for the kids in China. That is the most important thing."
The 6 special edition tees are available exclusively on yoox.com and yoox.cn while stocks last.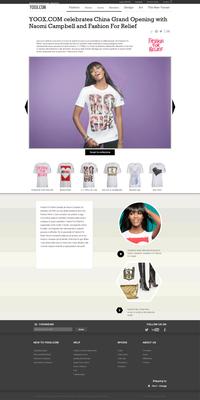 October 2012
NEW RUSSIAN FASHION
October 2012 – for over a decade international top-model, Anastassia Khozissova has graced runways of the world's leading fashion brands and the covers of leading magazines. Exclusively for yoox.com, Anastassia has dedicated her knowledge and experience as a fashion insider to the search for the best in emerging Russian fashion talent.
Hours spent attending fashion shows and combing the boutiques and ateliers of Moscow and St Petersburg, Anastassia has chosen 2 designers to wave the flag for new Russian fashion: Olya Shikhova and Maria Golubeva.
Olya Shikhova was born in Ekaterinburg, following a period working as a theatrical costume designer and stylist, she presented her first collection at Russian Fashion Week where her unique, sculptural and minimal aesthetic garnered praise from the fashion press.
yoox.com presents a selection of pieces from the Fall Winter 2013 centered around the world of accessories with collars crafted from wool and satin, decorated with feathers, pearls, crystals and beads. In exclusive for yoox.com, Olya has created the Gzhel collar and bowtie, crafted by hand from cotton and adorned with silk screen prints and glass beadwork.
Maria Golubeva has made a name for herself in recent years thanks to her work as a celebrity stylist and designer, showing at Russian Fashion Week. Maria's style is a mix of romanticism, femininity and elegance, drawing inspiration from the traditions of Russian culture and costume. For yoox.com Maria presents a selection of coats, dresses and separates from her Fall Winter 2013 collection, alongside 3 simple dresses which masterfully demonstrate her skill in cutting, draping and constructing - created exclusively for yoox.com.
Thanks to Anastassia's keen eye for style, yoox.com customers around the world will have the chance to purchase pieces created by these two young talents, alongside an exclusive video hosted by the Russian supermodel where two designers showcase their unique creative vision.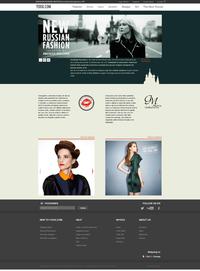 October 2012
GALITZINE BY SERGIO ZAMBON
October 2012 - yoox.com presents an exclusive preview of the Spring Summer 2013 Galitzine Pyjama Palazzo Capsule collection by Sergio Zambon.
The Spring Summer 2013 collection marks the re-launch of one of Italian fashion's most revered maisons – Galitzine. Founded by the Russian Princess emigrée Irene Galitzine, her eponymous brand made a name for itself as the choice of glamorous jet-setters of the 1950's and 60's. The Palazzo Pyjama - a matching two-piece created by Irene Galitzine, became the brand's signature piece - adored by the glitterati: worn by the likes of Audrey Hepburn, Wallis Simpson and Marella Agnelli and affectionately referred to by Jacquie Kennedy as 'the uniform'.
For Spring Summer 2013 the uniform takes on a modern edge. Galitzine has teamed up with designer Sergio Zambon to create a beautiful re-visitation of this classic garment, the resulting pieces are contemporary, elegant and relaxed whilst remaining true to the original spirit of the historic house.
Functional and practical, for Day, the collection features washed cotton suits in sixties prints - checks, polka dots, and stripes, alongside elegant evening attire in linen and silk with Swarovski detailing or directional street-style studding.
From October 2012 yoox.com presents an online exclusive preview of the 2013 Spring|Summer collection featuring 8 Palazzo Pyjamas ranging from daywear to effortless evening attire alongside a unique style created by Galitzine exclusively for yoox.com - the classic Galitzine silhouette in cotton embellished with decorative applications in fresh citrus colors - the perfect look for the international jet-setter in you.
Ottobre 2012
ART AT YOOX.COM
10 October 2012 - Fashion, design and now art. Since 2000, yoox.com has featured the captivating and the hard to find from the worlds of fashion and design. Now we are adding a whole new dimension, waiting to be discovered – Art at yoox.com.

Art at yoox.com brings together photography, prints, original works and artist products in a selection of pieces created by artists ranging from emerging to the established, offering artists and their creations truly global visibility, with over 7 million unique visitors every month.

Close relationships with artists, international curators and world famous museums, galleries, agencies and publishing companies such as Tate, Magnum Photos and Other Criteria ensure an appealing lineup of Art at yoox.com. yoox.com will also offer a series of exclusive projects developed together with some of the world's leading artists.

Art at yoox.com presents two of the most renowned and popular names in contemporary art: Turner Prize winners Grayson Perry and Damien Hirst. For yoox.com, Perry - the master of irreverent social observation has created a boxed set of table mats The Vanity of Small Differences - six pieces inspired by the artist's series of tapestries exploring class themes, in a limited edition boxed set, certified and numbered exclusively for yoox.com.

yoox.com also presents another online exclusive: two small scale versions of the sculpture, Anatomy of an angel by renowned contemporary artist Damien Hirst. Cast in either black or white resin, each in a limited edition, with the signature, title and edition number etched into the resin by the artist. Published by Other Criteria, working with the artist, the sculpture is inspired by Alfred Boucher's L'Hirondelle (1920). Damien Hirst 'dissects' the form, offering a view of the internal organs of the angel, revealing the humanity hidden within the divine.

Federico Marchetti, Founder and CEO YOOX Group: "yoox.com provides the art world with the opportunity to capitalize on our global platform, and our over 7 million monthly visitors. Our current fashion and design offer draws huge audiences and we're confident adding art to the mix, together with our impeccable service and Swiss delivery times will enable more people to consume and enjoy art than ever before."

Visitors to yoox.com can also get inspired and involved with the latest goings-on in the international art community thanks to dedicated coverage of news about artists, exhibitions, art fairs and events. To celebrate the launch of this new adventure, yoox.com will be present at this year's FRIEZE Art Fair in London, collaborating in the presentation of the renowned Sculpture Park.

yoox.com will offer visitors of the exhibition the possibility to access a specially created mobile site, friezesculpturepark.yoox.com where they can receive background information about the exhibition and the works on show and discover the rest of the exhibition through specially created videos.
September 2012
The NEW yoox.com There's new voice in the world of online shopping – yours 'Speak & Shop™'
3 September 2012 – Online shoppers can now purchase their favorite outfit simply by speaking to their computer. After launching fashion e-commerce back in early 2000, yoox.com has been completely reinvented and redesigned. As part of its new look, it introduces 'Speak & Shop™', a revolutionary feature for online fashion where text search meets voice recognition from YOOX Group Technology and R&D divisions - innovation Made in Italy.

Millions of visitors from around the globe are welcomed to the NEW yoox.com by its digital cover featuring the famous Chinese top model Xiao Wen Ju wearing a video-dress conceived by mixing fashion with technology.

Style and design lovers can search their favorite outfit, shoes, accessories or design objects by simply clicking or writing their favorite color of the season, or by using the feature "Speak & Shop™" allowing them to state their preferred color in nine languages (British English, Italian, French, Russian, Spanish, German, US English, Japanese and Korean): the digital cover page will return an edited selection of fashion and design pieces in the desired color. Xiao Wen Ju"s kaleidoscopic look too is transformed in the same color, creating a mono-chrome page of products and dreams. Retail therapy meets chromo-therapy – all of course using Google Chrome™.

Continuing its trailblazing e-commerce path, online fashion is set to become even more entertaining thanks to the NEW yoox.com and its feature "Speak & Shop™": another revolutionary development in fashion e-commerce developed by yoox.com, part of its ongoing commitment to innovation and new forms of creativity.

The NEW yoox.com has been conceived with speed, clarity and user-friendliness as its first priority. The team involved in this key project for YOOX Group has been working on it for twelve months in order to reach a balance between design and innovative technology, with customers" feedback always in mind.

Reinvented and redesigned to provide its customers with a totally new shopping experience, the NEW yoox.com offers advanced features like instant search which enables shoppers to take advantage of search suggestions and locate exactly what they are looking for, faster and easier than ever before. It"s also an inspiring voyage into a world of style - with new sections like "The look for…" offering advice for every occasion (weekend, office, etc.) or "Trend" for an extra dose of stylish inspiration.

The NEW yoox.com is available immediately for tablet and mobile devices.

Search, find, save time and money and speak to the NEW yoox.com!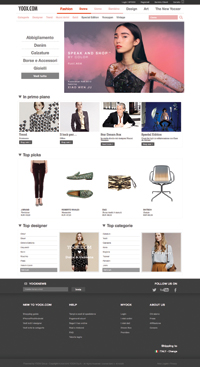 May 2012
Discovered in Africa by Vogue Italia Exclusively on yoox.com
yoox.com, the leading virtual store for multi-brand fashion and design in the world, in collaboration with Vogue Italia presents a new and innovative project dedicated to the forefront of African fashion.

From May 2012 Discovered in Africa by Vogue Italy Exclusively on yoox.com offers fashion fans around the world the chance to add an original touch of exotic style and elegance to their wardrobes, just in time for summer.

Thanks to her role as Goodwill Ambassador for the Fashion4Development project, Director of Vogue Italia Franca Sozzani is directly involved in the UN's fashion based initiatives combatting poverty and gender inequality in Africa. Together with sustainable fashion expert Marina Spadafora, Franca Sozzani has selected 10 brands to represent the vanguard of African creativity. Thanks to the presence of yoox.com in over 100 countries, these products will have the chance to be appreciated and purchased by fashionistas from every corner of the planet.

The selection encompasses an eclectic range of products ranging from coats and dresses through to shoes, bags and jewelry. From the vaguely retro style of Kofi Ansah's exclusive pieces for yoox.com, to the refined simplicity of Lem Lem - the brand founded by Ethiopian model Liya Kebede; from outerwear in vivacious shades by Tiffany Amber, to soft pashminas by Sabahar. The Discovered in Africa collection offers something unique for every occasion: Koshie O and Braghette Rosse offer shoes and bags with a distinct tribal-chic style, while Nigerian designer Lanre Da Silva Ajayi presents elegant garments inspired by the art of the couturier. For jewelry-lovers, two Kenyan brands La Crea and Le Collane di Betta present necklaces and bracelets inspired by the local craft traditions of western Africa. Of particular note, Ghanaian brand Global Mamas – whose products are made by a cooperative of local women using traditional fabrics. The brand has garnered recognition from the World Fair Trade Organization (WFTO) and Fair Trade Federation (FTF) - the result is a collection of dresses perfect for a relaxed summer evening.

To celebrate the launch of Discovered in Africa by Vogue Italy Exclusively on yoox.com, Liya Kebede, Ethiopian model, actress, and founder of the brand Lem Lem, will share her fashion tips in a Star Dream Box, where the Top Model choses garments from the selection, alongside an interview where she explains her vision of African Fashion. yoox.com is proud to offer local and emerging talent meaningful support through international visibility, in the process offering an opportunity not to be missed for fashion-addicts worldwide to snap up unique and original outfits and accessories.

Thanks to yoox.com and Vogue Italia, elegance born on the streets of Ghana, Kenya, Nigeria and Ethiopia will soon be winging its way to fashion capitals and cities across the globe.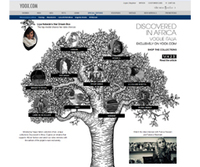 April 2012
Presenting the next generation of Sustainable Style YOOXYGEN launches the ECO-AGE shop-in-shop by Livia Firth
YOOXYGEN, yoox.com's eco-friendly initiative, is delighted to announce the launch of Livia Firth's ECO-AGE. shop-in-shop.
An online shopping destination for socially responsible, fashion-savvy shoppers – each season ECO-AGE.'S shop-in-shop will play host to the latest and best creations from the world of eco-fashion and lifestyle, chosen by Livia Firth especially for YOOXYGEN.
The launch coincides with International Earth Day on 22nd April 2012. 'I have always believed that smart sustainable design with a lighter, cleaner impact should be both beautiful and accessible,' says Livia Firth who has recently wowed fashion critics by bringing her style to the international awards season, 'I want to make the very best available to buy easily. The opportunity to team up with pioneers of eco commerce and design, Yooxygen was just too good to resist.'
For ECO-AGE. (shop-in-shop) spring-summer 2012 selection, Livia Firth brings together leading names in eco-fashion with niche brands to create the essential wardrobe that just happens to be sustainable. Brands include après-plage looks by Beach Candy; cutting edge eco shoe design from Beyond Skin; unique African-made bags by Carmina Campus; classically refined dresses by Eloise Grey; clutches and sunglasses in bamboo and vine by Kayu; eye-catching ethical heels by Mink, elegant eco sandals by Olsenhaus and casual separates in organic cotton by Stewart and Brown.
In addition, from September 2012, ECO-AGE. will showcase Livia Firth Designs (LFD) – a small collection of luxury clothes and accessories designed by Livia herself. 'I have been lucky enough to be involved in designing a number of eco accessories in the past. LFD will represent my first consolidated collection and I am hugely excited,' she says.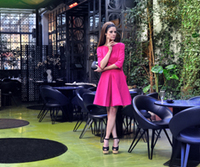 March 2012
LE CYCLOPE ARDENT - The softness of ceramics and the richness of precious metals in an exclusive piece by MOUSTACHE FOR YOOX.COM
Cutting-edge French design brand Moustache joins forces with the leading virtual store for multi-brand fashion and design in the world, yoox.com, to create an exciting new product - Le Cyclope Ardent, available exclusively on yoox.com from the end of March 2012
.
The Cyclope mirror, designed by young French designer Ionna Vautrin, gets its name from the convex mirrors, (which in French are called 'witches' eyes) - Vautrin takes this magical object and perches it atop a soft cone crafted from clay, creating a table-top mirror with a distinctly sculptural feel, evoking the mysterious monolithic statues of far-off primitive cultures or the minimal eloquence of sculptors like Brancusi and Moore.

Originally available in a matt ceramic finish, for yoox.com, Vautrin has created 3 new and unique new versions – Le Cyclope Ardent. Le Cyclope Ardent is coated in a lustrous hi-gloss metallic finish, 3 different metals chosen for their evocative richness, luster and sophistication: opulent gold, elegant platinum and warm, alluring copper. Like a sculpture for the home, Le Cyclope Ardent sits atop any table or desk and gazes out at the world around it, offering users a glimpse into a strange and intriguing vision of the world.

The use of soft, simple geometric shapes lend a sense of relaxed elegance and fun to works by the young designer, who in the space of a few short years has come to be one of the 'ones to watch' within the international product and furniture design community. 100% Made in Italy, Le Cyclope Ardent is hand finished by master craftsmen and available exclusively on yoox.com.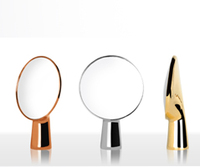 February 2012
ESTETHICA AT YOOXYGEN
The British Fashion Council (BFC) has once again confirmed its collaboration with yoox.com. The leading virtual store for multi-brand fashion and design will be the official online retail partner for its ethical talent showcase Estethica.
During London Fashion Week in February 2012, YOOXYGEN, yoox.com's eco-friendly initiative will present a selection of Estethica designers Spring/Summer 12 collections on yoox.com. Estethica showcases the very best of sustainable and innovative fashion.

Designers selected this season and available on YOOXYGEN's ethical retail space include: Lost of Property of London, Henrietta Ludgate, Michelle Lowe-Holder, Joanna Cave, Sonya Kashmiri and Charini. The British Fashion Council founded Estethica over five years ago to showcase the growing movement of cutting edge designers committed to working eco-sustainably. Estethica has evolved to become the hub of London's ethical fashion industry.

yoox.com supports this collaboration in line with its commitment to eco-sustainability, research and promotion of new approaches to creativity. Whilst continuing to support the scene of sustainable fashion by offering its global presence and reach to showcase emerging British talent around the world.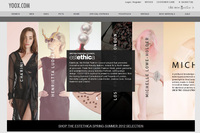 January 2012
LANCETTI/ RE-EDITION
Now in its second edition, this year's special RE-EDITION project in collaboration with yoox.com, is dedicated to the creative genius of Pino Lancetti, re-interpreted by young Roman designer Caterina Gatta. Eight garments based on eight different themes: not only garments, but also scarves and a pair of shoes, re-engineered using original vintage fabrics.

Caterina Gatta draws from the past to project her work into the future, thus expressing not only her passion for research on fabrics but also her ability to use colours, patterns and prints to redefine her creations in a contemporary key. Additionally, a line of perfumes entitled "Lancetti Celebration" will also be presented according to the following classification methods: floral-citrus, floral-chypre and oriental-ambery and will feature a new packaging designed especially to celebrate the brand's 50th anniversary. A perfect trait d'union between the tradition of vintage haute couture and "first-time" collaborations with young, up-and-coming designers targeted at the birth of new entrepreneurial realities.

"My dream is to give a new lease of life to famous couturiers of the past, thanks to the injection of new creative lymph, to see them reinstated in the world of fashion as is the case in other countries. Rome, with its immense cultural and sartorial heritage has everything that it takes to achieve this dream, plus an enormous legacy that others will be able to draw upon", commented Silvia Venturini Fendi, President of Altaroma.

Thanks to the partnership with yoox.com, the Re-Edition project will also assume a virtual format. In more than 100 markets, in ten different languages, yoox.com will offer style lovers throughout the world a chance to purchase these unique garments. Even iPad apps will be available. Furthermore, potential customers will also have a chance to purchase the garments in real time during the launch event, scheduled to be held on 30 January.

With regard to the above, Federico Marchetti – founder and CEO of YOOX Group – commented thus: "yoox.com is a perfect showcase for this marriage between history and the future of "Made-in-Italy" fashion. Caterina Gatta's interpretations of Lancetti's style will be able to be seen, appreciated, purchased and worn in more than 100 countries worldwide."

In addition to Caterina Gatta's creations, yoox.com will also offer its visitors exclusive behind the scenes video and material about the project and the launch event, thus bringing Lancetti/Re-Edition from Rome to every part of the world. Furthermore, LANCETTI/RE-EDITION will also include an exhibition, curated by Altaroma and organized in collaboration with the "Sovraintendenza ai beni culturali di Roma Capitale" and the Imperial Forums Museum and Trajan's Market. A selection of twenty four garments taken from the historic Lancetti archive and created between 1970 and 2000, will be divided into six sections, termed "Mondi" (Worlds), corresponding to the main creative themes that made Pino Lancetti an internationally acclaimed household name. Printed fabrics, produced from original Lancetti paintings, embroidery created and based on his designs, collections inspired by artists or famous pictorial movements and, finally, lines inspired by the Far East and Mediterranean folklore.
The exhibition/event LANCETTI, A 50 year journey through fashion, Lancetti/Re-Edition will be held at Trajan's market on 30 January 2012. A publication on Lancetti, curated by Sofia Gnoli, is shortly scheduled for publication.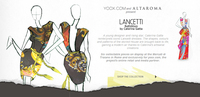 January 2012
ANGELOS BRATIS FOR YOOX.COM - Celebrating the launch of yoox.com in Greek
To celebrate the launch of the Greek version of the virtual store, yoox.com unveils a unique collaboration with Greek designer Angelos Bratis, debuting online his Spring/Summer collection, alongside an exclusive caftan-dress designed exclusively for yoox.com and available online from mid January.

The Spring/Summer collection - ECHO LOVES NARCISSUS, is inspired by the famous Greek myth. According to Angelos Bratis this legend is more contemporary than ever in today's digital age. Hi-tech Romanticism permeates Angelos Bratis' collection: algorithmic design blends with softness and fluidity – geometric shapes like the triangle and rhombus in 'Facebook' blue and Narcissus yellow create seamless color block dresses, crafted from natural materials and cut directly on the mannequin like traditional Greek peplums. Greek tradition fuses with the future in the exquisite Y-caftan dress, created exclusively for yoox.com: "The Y-caftan came to mind when I was looking at the yoox.com app on my iPhone: the letter Y - a beautiful Greek symbol" affirms Angelos Bratis. A strong graphic silhouette combines with the geometry of the letter "Y" in bright yellow against a simple square of grey silk cut in four pieces. Bias-cut side panels drape against the body and give the garment a sense of fluidity.

This new project is part of yoox.com's ongoing commitment to discovering new fashion talent and promoting them before an international audience that touches more than 100 countries: Angelos Bratis for yoox.com is the first collaboration between yoox.com and a Greek designer, and the perfect way to celebrate the launch of the Greek version of the website. The new version in Greek is the 10th localized version of the virtual store yoox.com, following in the wake of England, USA, France, Germany, Japan, Italy, Spain, Russia and South Korea. While yoox.com has been present in the Greek market for many years, customers can now take advantage of a personalised experience with tailored editorial content.

Greek fashion lovers can now access the exceptional selection of fashion and accessories for men and women, alongside exclusive collections created for yoox.com in their own language, not only from their desktop but thanks to the versions for iPhone, iPad and Android, anywhere and anytime.