December 2011
RICHARD NICOLL PRESENTS "FLIGHT NIGHT" ONLY FOR THECORNER.COM
To celebrate his AW11 collection, and the forthcoming Christmas season, British designer Richard Nicoll has designed "Flight Night" an exclusive capsule collection for thecorner.com. The opulence of the 1920's and the butterfly motif, featured heavily in Nicoll's AW11 show, were the starting point for the exclusive collection.

Traditional period costume jewelry has been finished with oversized crystals and rendered in the form of the butterfly. To complement these pieces, Nicoll has created a 'sweatshirt' and bustier dress with thousands of hand applied laser cut silk butterflies in an opulent midnight blue that give the garments a luxurious modernity. Nicoll also collaborated with illustrator Ricardo Fumanal, animator David Nasser and composer Daniel Lea on a conceptual short film, which serves as a beautiful visual demonstration of the inspiration for the exclusive collection.

Nicoll's signature understated elegance and wearability runs through the core of the collection, a trait that continues to attract high profile clients such as Sofia Coppola, Keira Knightley, Diane Kruger, Sienna Miller, Kate Bosworth, and Julianne Moore. Nicoll, who consulted for Marc Jacobs at Louis Vuitton, has also spent 3 seasons as the creative director for women's wear at Cerruti and continues his role design director of women's wear for Fred Perry's premium Laurel line.

Thanks to thecorner.com, "Flight Night" will be available in more than 50 countries worldwide, making the items a special gift idea.
December 2011
EXCLUSIVELY FOR THECORNER.COM - "KNOT YOURSELF" A FILM BY ALEXANDER OLCH
The perfect knot is one of the tell-tale signs of a true gentleman. For his debut at thecorner.com, neckwear master Alexander Olch celebrates the art of the tie with a cheeky video tutorial. Alexander Olch is a writer, director and designer, who has mixed and matched all of his talents in a unique project exclusively created for thecorner.com.

Combining old world craftsmanship with a unique modern style, each Alexander Olch neckties are originally designed and handmade, striking a balance between innovative design and an aesthetic of refined luxury and class. The Alexander Olch collection is made up of fine cashmere, wool, linen, silk, and cotton neckties that introduce an unconventional style into the typically conservative world of luxury men's wear.

Thanks to his multifaceted approach, Alexander has chosen to celebrate its creations through a short film exclusively for thecorner.com: Knot Yourself directed by Matt Lenski. The video is the first of a series of fashion tutorial films. Always seeking to reinterpret the classics, designer Alexander Olch, sets his sights on the "how-to" films.

Knot Yourself is a cheeky, sexy, step-by-step on how to properly knot your tie with the designer, with the "host" played by a stunning woman donning the ties. Shot in sensuous black and white and paying homage to iconic films by Fellini and Goddard, the short film Knot Yourself is a witty and irreverent introduction into the world of Alexander Olch.

thecorner.com brings Alexander Olch and his unique approach to fashion on the global stage through its international windows in more than 50 countries.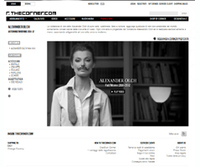 December 2011
PRINGLE OF SCOTLAND DEBUTS ON THECORNER.COM
Pringle of Scotland debuts on thecorner.com with a bang, delivering a variety of special and exclusive new projects that meld its erstwhile tradition and technical innovation.

In chronological order, starting from the end of November, Pringle of Scotland debuts on thecorner.com with the Pringle Archive Collection in partnership with the renowned Central Saint Martin's College of Art and Design that further enhances Pringle's commitment to promoting and supporting emerging talent. Under the direction of Louise Wilson OBE, one of the world's most influential fashion educators, a group of MA students mined the archives of the 196-year-old Scottish knitwear company to produce a range of men's and women's looks that meld past and future. thecorner.com will present the collaboration with an exclusive video interview with Louise Wilson.

In mid-December, it's the turn of the much anticipated Spring Summer 2012 Resort collection, the first by new Design Director Alistair Carr, who reinterprets Pringles' iconic argyle patterns and twinsets with abstract motifs and vivid colors. Alistair Carr, formerly at Balenciaga, will appear in an exclusive video interview conducted by award-winning actress Tilda Swinton, who also fronts the advertising campaign.

Last but not least thecorner.com will gift one of Carr's graphic and computer-elaborated motifs in green and grey will in fact appear on an exclusive T-shirt called Pixel to worldwide customers that purchase the Pringle collections on thecorner.com. A high-profile and global platform, thecorner.com will be the only online boutique to sell the Pringle collections online.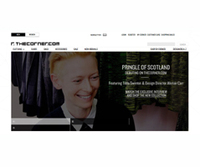 November 2011
Elegance at a click! Agnona has selected thecorner.com to sell its Home Collection online and presents a special project for Christmas
Find the perfect Christmas present without having to leave your home or surround yourself with total elegance even when you have little time for shopping. These are just some of the reasons why Agnona has chosen thecorner.com, the online boutique showcasing a selection of distinguished brands recognized for innovation and craftsmanship, as its exclusive virtual window. You can choose from new items in the collection especially designed for those who love to update their surroundings, as well as their wardrobe, with special items.

A collection which stands out for its ability to offer new inspiration time and time again, season after season, with original ideas for presents, from cashmere bear cubs to timeless classics such as covers, rugs and cushions. After the opening of the Agnona mini-store for the Autumn/Winter 2011 collection, from the end of November the first clients to make an online purchase will receive a free Christmas bauble with cashmere threads donated by Agnona to the girls that Care&Share helps in India. Care&Share is a non-profit association which, also thanks to the support of the Zegna Foundation, provides assistance to children in need in the district of Krishna and in the region of Andhra Pradesh and also helps young women to learn a trade in a pleasant environment where cashmere threads are entwined with dreams and songs.

This Christmas, to mark its launch on thecorner.com, Agnona has decided to offer another Care&Share creation, which will be sold online in an exclusive preview: small cashmere gloves to decorate your Christmas tree. This is an opportunity not to be missed to adorn your home with a unique piece that gives you a taste of India, joy and hope, but above all, it is a special occasion to make your very own contribution to a charitable cause.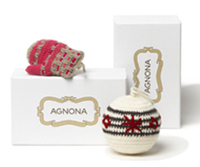 November 2011
ANN DEMEULEMEESTER (thecorner.com) - A CAPSULE COLLECTION EXCLUSIVELY FOR THECORNER.COM FOR HOLIDAY 2011
For the first time ever, avant-garde Belgian designer Ann Demeulemeester has created a unique capsule collection to be sold exclusively on thecorner.com just in time for holidays.

thecorner.com, best known for its eclectic and selective offering of established and cutting-edge brands including Ann Demeulemeester, is the perfect home for the Antwerp designer's first foray into capsule pieces. The collection, aptly titled Ann Demeulemeester (thecorner.com) consists of four stylish pieces - a waistcoat, tank top, pants and a shopper bag - that can be combined to create unique total looks for both men and women. The all-black mix and match line-up features top quality materials and unexpected details that give each item the unmistakable Ann Demeulemeester touch. The unisex waistcoat is made of soft lamb leather with a cotton back while the tank tops come in a delicate cotton cashmere mix with "snow print". The tops and pants styles (accompanied by slim black leather belts with stud embossments) have a different fit for men and women.

The shopper bag is also made of soft lamb leather with an irregular stud embossed pattern. In order to give visitors a closer look at the world of Ann Demeulemeester and her capsule collection, thecorner.com will present an exclusive video that shows Ann Demeulemeester (thecorner.com) interpreted by artist Erik Madigan Heck.

The Ann Demeulemeester (thecorner.com) collection will be sold exclusively on thecorner.com starting at the end of November.
November 2011
THECORNER.COM AND INTERVIEW MAGAZINE TEAM UP IN NEW YORK
Now in its fifth season, thecorner.com's Styling Around the World project continues its journey, this time landing in New York City for an exclusive collaboration with INTERVIEW Magazine. The concept behind Styling Around the World is to seasonally renew the virtual windows of thecorner.com with exclusive photo shoots by leading stylists and magazines around the world, who mix-and-match a selection of brands available on thecorner.com.

The shoot mirrors the avant-garde mood of typical INTERVIEW stories with the clothes worn by iconic people that exude a sexy-rocker vibe, accentuated by diva looks, sharp tailoring and lots of black, that were shot in downtown New York.

For the fall winter 2011-2012 season, thecorner.com has teamed up with INTERVIEW Magazine for a special shoot with top houses that include Rick Owens, Ann Demeulemeester, Balmain, Vivienne Westwood, Marc Jacobs, Pierre Hardy, Neil Barrett, Natalia Brilli, Boudicca, I'm Isola Marras and Golden Goose.

All the fashion selection that appears in the images published in the November issue of INTERVIEW Magazine is available on thecorner.com. It will go live on thecorner.com at the beginning of November to coincide with the arrival of INTERVIEW on newsstands. An exclusive video for thecorner.com complements the project.

Past collaborations include Tokyo's Tsuyoshi Noguchi, Nicola Formichetti in London, i-D Magazine in Los Angeles, Fantastic Man and Zoo Magazine in Berlin.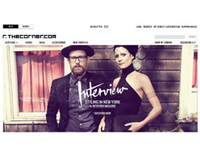 October 2011
THECORNER.COM LAUNCHES ITS RUSSIAN VERSION
The online boutique thecorner.com launches its Russian version exclusively for all its fashion customers in the country. The new version is the 9th localized site for the online boutique thecorner.com after UK, USA, France, Germany, Japan, Italy, Spain and - newly launched - China.

Already serving Russia since 2008, thecorner.com will now offer a customized experience to customers with tailored editorial content in the Russian language. Russian customers will also benefit from Russian speaking customer care via e-mail, reliable delivery through a tailor-made shipping system using the EMS Russian Post as well as safe payments via credit/debit cards.

Russian fashion lovers - men and women - now have the possibility to access exclusive multimedia content on thecorner.com in their own language, as well as the option to fully experience the designers' worlds and inspirations through interviews, fashion shoots, videos, and fashion films only on thecorner.com. Another new feature online to be discovered by Russian visitors is the third edition of the fashion film series: "Lost Paradise", created by Chinese director Wing Shya, the exclusive photographer of the acclaimed film director Wong Kar-Wai. Previous fashion films for thecorner.com have been created by UK fashion photographer Nick Knight in 2009, as well as former Dior Homme chief designer and photographer Hedi Slimane in 2010.

thecorner.com now presents a more tailored experience for Russian customers looking for a curated selection of cutting-edge fashion and accessories such as Ann Demeulemeester, Haider Ackermann, Casadei, Maison Martin Margiela, Marc Jacobs, Neil Barrett, Rick Owens, Vivienne Westwood and many others. Russian customers will also have the possibility to shop not only from their desktop but anywhere and anytime from their iPad.

Powered by YOOX Group, thecorner.com leverages on the Group's expertise in localized services. Already delivering in more than 100 countries worldwide, YOOX Group continues its strategy of penetration in the Russian market which began in 2010 with the localization of yoox.com, followed by a selected group of top Online Flagship Stores "Powered by YOOX Group" in 2011, such as emiliopucci.com and diesel.com.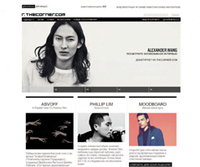 September 2011
LOST PARADISE by Wing Shya exclusively for thecorner.com
An angel disguised as a demon and a troubled rock star meet in Macau- the exotic eastern city of vice, gambling and rock and roll. The result is an allegorical love story which evokes the sophistication of humanity and the fragility of dreams. Conflicting cultural themes are combined in startling ways, drawing the viewer into a world of inspiration and visual stimulation using conceptual reality and stream of consciousness images.
Wing Shya is one of the most acclaimed fashion photographers in China as well as exclusive photographer for the acclaimed movie director Wong Kar-Wai's masterpiece "In the Mood for Love". Wing Shya is a contributor of Nick Knight's SHOWstudio, and directed the film "Hot Summer Days" and "Space Love". LOST PARADISE combines a feeling of luxury and loss to reveal the purity of mankind in a gothic light.
The female lead is Gwei Lun Mei, a popular Chinese actress who began her acting career with the movie 'Blue Gate Crossing' in 2002. Gwei gained recognition as the heroine in the movie 'Secret' in 2007, directed by Jay Chou. In LOST PARADISE, Gwei takes on the role of an angel in the guise of a demon, moving away from her innocent image in previous movies. The male lead, Muma, is the singer and guitarist of Muma & Third Party. Thanks to his sense of style and mysterious charisma, Muma has become one of the most popular musicians in Mainland China. In LOST PARADISE, Muma plays the part of a rock and roll star battling with his dreams and demons, engaging in a sort of 'love story' with Gwei Lun Mei.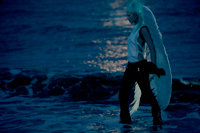 September 2011
THECORNER.COM.CN TO LAUNCH IN CHINA
unveiling a new website and the world premiere of a new Fashion Film, created especially for the China launch
Online boutique thecorner.com opens today its virtual doors in China under the domain thecorner.com.cn, featuring a carefully curated selection of brand "corners" dedicated specifically to the Chinese market offering fashion and accessories ranging from luxury to the cutting-edge. The launch will be celebrated with the latest installment of thecorner.com's Fashion Film series, this time, by Chinese director Wing Shya, the exclusive photographer of acclaimed film director Wong Kar-Wai. The film will also be released worldwide on thecorner.com.
With its debut in China, thecorner.com.cn will be among the first official multi-brand online stores to offer fashion-savvy men and women across China the latest collections from world-renowned labels. The impressive stable of brands selected for the FW11/12 season launch will consist of luxury and fashion names such as Dolce & Gabbana, Salvatore Ferragamo, Alexander McQueen and Z Zegna in addition to a cutting-edge selection including Maison Martin Margiela, Rick Owens, Haider Ackermann and Alexander Wang amongst others. Each brand will be presented in its own "corner", - customized mini-stores featuring innovative multimedia content. The eclectic selection spans the entire fashion spectrum, catering to the unique and wide-ranging tastes of our clientele in China.
For its launch, thecorner.com.cn has decided to celebrate local talent, entrusting the creation of the latest Fashion Film to Wing Shya, one of China's most acclaimed fashion photographers and the exclusive photographer of movie director Wong Kar-Wai. Previous Fashion Films have been created by UK fashion photographer Nick Knight in 2009 and former Dior Homme chief designer and photographer Hedi Slimane in 2010. The central concept lies in commissioning fashion photographers to take three distinct art forms - Fashion, Film and Photography - and blend them into an innovative and exclusive creation for thecorner.com. Wing Shya's Fashion Film will be the first time that users can shop their favorite brands directly from the film, anytime and anywhere from their iPad.
To guarantee our Chinese customers the best possible online shopping experience, thecorner.com.cn will offer tailored e-commerce solutions for each "corner" where every detail is carefully designed to be as impeccable and sophisticated as the products on offer. thecorner.com.cn will also offer fully localized and premium customer service for Chinese customers, including:
- Luxury packaging with a shopping bag designed especially for China
- Fast and reliable FedEx delivery to more than 400 cities throughout China
- Free returns with an exclusive "butler service" that allows customers to try on their purchases while a courier waits in case the item needs to be sent back
- Localized site and dedicated customer care in Chinese, both via email and telephone
- Fashion advisor via email
- Size conversion
- Prices in Yuan
- Safe payments via cash-on-delivery service and various local payment systems (such as Alipay)
- Anti-fraud microchip seal with the latest RFid tracking technology to ensure the authenticity of each product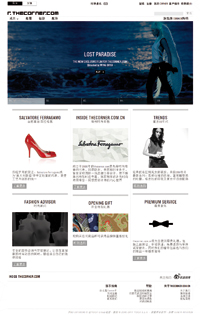 September 2011
LONDON show ROOMS MEN OPENS ITS FIRST ONLINE RETAIL SPACE ON THECORNER.COM
thecorner.com announces a new chapter of the collaboration with the British Fashion Council (BFC): as official online retail partner to the LONDON show ROOMS initiative thecorner.com, creates the first exclusive online retail space dedicated to a selection of London's leading emerging menswear design talents from LONDON show ROOMS MEN. After the launch last year of the global window dedicated to women designers - Mary Katrantzou, David Koma, Christopher Raeburn, Michael Van Der Ham and J.W. Anderson - selected from the LONDON show ROOMS project, starting from September, thecorner.com presents a new area online to showcase in a dedicated "mini-store" the Autumn/Winter '11 men collections from designers Christopher Raeburn, Christopher Shannon, James Long, J. W. Anderson alongside exclusive content and video interviews about the designers and their creative vision.
The project dedicated to LONDON show ROOMS MEN on thecorner.com is curated by acclaimed style writer Tim Blanks, Editor-at-Large, Style.com.
"The menswear scene in London has exploded in the past few years," says Blanks. "And what makes it unique is its range: from the traditions of Savile Row to cutting-edge sportswear to fashion showmen in the grand tradition of Galliano and McQueen. The support of thecorner.com will help the world appreciate what's really happening here."
LONDON show ROOMS is the international designer showcase and wholesale platform created by the BFC, dedicated to supporting and showcasing leading emerging British designers. For the first time ever in September fashion connoisseurs from all over the world will be able to buy directly from a selection of the LONDON show ROOMS men and women thanks to the online spaces on thecorner.com.
With this collaboration thecorner.com confirms its commitment to championing emerging talent with a focus on cutting-edge collections and craftsmanship, continuously promoting them in over 50 countries.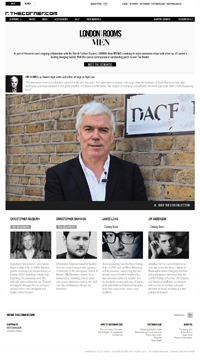 September 2011
N° 21 DEBUTTS ONLINE EXCLUSIVELY ON THECORNER.COM
With the Autumn/Winter 2011 season, N°21 - the new creative project designed by Alessandro Dell'Acqua, will debut online on thecorner.com.
In the N°21 Autumn/Winter collection the archetypes of the female wardrobe meet masculine shapes, blurring the boundaries: feathers, brocade, lace and sequins mixed with loden, barbour and trench. Sensual silhouettes with narrow shoulder jackets, knitwear of exclusive fabrics, knee-length skirts and straight pants, in pastel colors, smoky grays, and yellows. The look is completed with accessories: high heels and lace clutches.
The new mini-store online of N°21 will be launched with an exclusive video interview created by thecorner.com, featuring a face to face meeting between the creative director Alessandro Dell'Acqua and Anna Dello Russo, the Editor-at-Large of Vogue Japan.
N°21 is the new project of Alessandro Dell'Acqua, in which he wanted to reevaluate his vision of fashion, combining his great knowledge of knitwear and product with a genuine approach that leads to a meaningful proposal of modern pret-a-porter.
Alessandro Dell'Acqua said about the launch: "I am confident that the collaboration between N°21 and thecorner.com will be a great success. See you on thecorner.com with N°21!".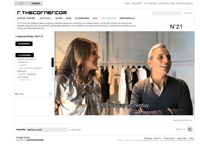 July 2011
thecorner.com and Zoo Magazine present Zoo Finest
thecorner.com is proud to unveil the first ever mini-store curated by an international style magazine, presenting selected fashion brands and accessories. Zoo Magazine's customized mini-store on thecorner.com showcases the collections of four emerging and talented fashion designers: Kaviar Gauche, Issever Bahri, Hien Le and Anne de Grijff. They will be available in more than 50 countries, giving them a truly global reach. The collections can be viewed at the end of July exclusively on thecorner.com. To accompany the introduction of this innovative project, Zoo Magazine has created a short movie that will debut at the exclusive launch event on Wednesday, July 6th, during Berlin Fashion Week.
E-commerce Debut
Zoo Magazine makes its e-commerce debut with Zoo Finest, a dedicated mini-store on thecorner.com featuring a cutting-edge selection from four must-watch designers. The collections will be available to a worldwide audience. For the launch, Zoo Magazine has selected three women's wear brands from Germany (Kaviar Gauche, Issever Bahri and Hien Le) and one from the Netherlands (Anne de Grijff) to participate in this eclectic and innovative project. The designers are chosen for their creativity, craftsmanship and their fresh take on modern fashion. The selection of designers clearly conveys the signature of Zoo Magazine and thecorner.com, which both focus on nurturing young talent. The collaboration originated from the need to strategically support creativity, authenticity and originality on an international level. Zoo Finest is a long-term collaboration between thecorner.com and Zoo Magazine.
Exclusive Video
The introduction of Zoo Finest will be accompanied by an exclusive short movie, curated by Zoo Magazine. In collaboration with Amsterdam-based photography duo Bill Tanaka, Zoo's Sandor Lubbe directed a poetic video that stars Dutch model Nora Ponse stylishly modeling the best looks of each of the four designers participating in Zoo Finest. The video will début on Wednesday, July 6th at the Zoo Finest cocktail event in the Direktorenhaus in Mitte, during Berlin Fashion Week, as well as online worldwide on thecorner.com. Zoo Finest will go live at the end of July, in perfect timing with the launch of the Fall/Winter collections.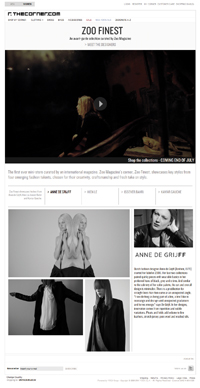 May 2011
Styling around the world in Berlin with Zoo Magazine
After Tokyo, London and Los Angeles, thecorner.com touches down in one of Europe's most exciting style capitals: Berlin. thecorner.com has set up an exclusive collaboration with the international style title Zoo Magazine, for the latest chapter of its Styling Around the World project: an exclusive photo shoot created by Zoo Magazine with the women brands available on thecorner.com, paying homage to Berlin.
The vibrant, avant-garde, and eclectic style of Germany's capital is captured by the young photographer and filmmaker Joost Vandebrug. Each of his poetic images shot on location throughout the city captures the individuality that defines free-spirited Berlin, showcasing its many characters, all different at every glimpse, but never viewed at indifferently.
The editorial leads to the creation of an exclusive short movie, capturing Masha Tyelna, Ukrainian top model, stylishly wandering the streets of Berlin. The movie boasts a surreal, dreamlike quality, transforming well-known cityscapes such as the Neue Nationalgalerie (Berlin's museum for modern art), into strange and unknown views. This special feature can be viewed only at thecorner.com starting from May 12th, in a dedicated area.
The look of the shoot has been created exclusively with styles available at thecorner.com and features designer labels such as Acne, Ann Demeulemeester, Balmain, Boudicca, Casadei, Giles, Glynneth B., Golden Goose, Haider Ackermann, Christopher Kane, Jen Kao, David Koma, Maison Martin Margiela, Mauro Grifoni, Michael Lewis, Proenza Schouler, Richard Nicoll, Rick Owens and Vivienne Westwood.
Zoo Magazine has commissioned Joost Vandebrug – the talented, London-based photographer/filmmaker whose work has been featured in Vogue Italia, L'Uomo Vogue and Wonderland – and Berlin-based stylists Alexx & Anton, to create a series of poetic images evoking the individuality that defines free-spirited Berlin for thecorner.com's project, Styling Around the World. The German style capital with its secret corners and artsy subcultures provided the perfect background for this quirky fashion story.
Founded in 2003 by Canadian musician/photographer Bryan Adams, publisher Sandor Lubbe and creative director José Klap, Zoo Magazine has established itself as an internationally renowned inspirational platform that targets photography, fashion, music, cinema, art, interior design and architecture. These images debut at the same time on thecorner.com and in Zoo Magazine's summer issue.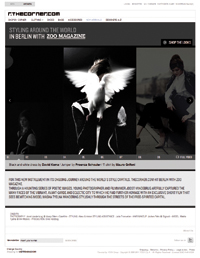 April 2011
THECORNER.COM AND FANTASTIC MAN STYLE BERLIN
After Los Angeles, thecorner.com's "Styling Around the World" project has now reached its fourth destination, the trendsetting and vivacious Berlin, along with its latest partner in style, Fantastic Man.
The innovative and continuous "Styling Around the World" initiative, now in its fourth year, calls upon the talent of a stylist or magazine to curate a photo shoot in different major cities throughout the world armed with a wardrobe of the latest designer pieces from thecorner.com.
The twice-yearly gentleman's style journal, Fantastic Man, was chosen for its reputation in the industry for high quality content and boundary-pushing attitude, the very same values reflected by thecorner.com.
For this year's edition, Fantastic Man created a spread featuring a handful of remarkable men from Berlin, a city teeming with artists and professionals of every kind who are each unique in their own way. An actor, an entrepreneur, a choreographer and a doctor among others are the protagonists of this story where the central theme revolves around men of substance and style.
The style choice for this particular shoot consisted of pieces from the cutting-edge men selection from thecorner.com including Acne, Dries Van Noten, Jil Sander, Kris Van Assche, Neil Barrett, Raf Simons, Rick Owens and Z Zegna.
The "Styling Around the World" initiative debuted in September of 2008 with Japanese stylist Tsuyoshi Noguchi in Tokyo, followed by Nicola Formichetti in London and i-D Magazine in Los Angeles this past May. As styles and trends change with the seasons, so do the creative elements of each collaboration, rendering every edition of "Styling around the world" a truly unique inspiring experience.
At mid April, "Styling Around the World" in Berlin will be published in the 13th issue of Fantastic Man as well as in a dedicated area of thecorner.com where visitors will be able to buy the items featured in the shoot.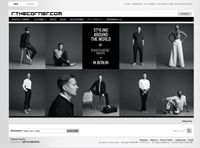 March 2011
UNDERCOVER BY JUN TAKAHASHI FOR THECORNER.COM
Japanese street fashion denizen and designer Jun Takahashi, founder and creative soul of the research brand Undercover, has designed a limited edition t-shirt exclusively for thecorner.com.
Each year, one designer from thecorner.com has the opportunity to create a t-shirt, playing with the website's logo. This unique project, whose past editions have been created by the likes of Hussein Chalayan, Les Hommes, Neil Barrett and now Undercover, is a special gift to customers of thecorner.com.
Black and white, the colors that make up the graphic essence of thecorner.com, the creative whim of Jun Takahashi and background to his creative universe - these are the elements that define this one-of-a-kind t-shirt.
Jun Takahashi, one of the most acclaimed presences on the international scene, reveals his inspiration: "Sex Pistols bassist Sid Vicious wore this necklace until he died. My Mona Lisa wears the same one. I dedicate this t-shirt to all the rebels out there."
Starting April 6th, thecorner.com will give away these exclusive limited-edition Undercover t-shirts to the first "rebels" who make a purchase on the online boutique!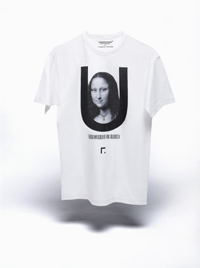 March 2011
PIOMBO DEBUTS ONLINE AT THECORNER.COM
Starting from the next spring/summer 11 season, Piombo debuts online at thecorner.com, the innovative online boutique showcasing a selection of cutting-edge fashion and accessories for men and women through dedicated mini-stores.
The opening of Piombo's mini-store on thecorner.com fits in perfectly with the brand's new development strategy, consolidating its presence on the international market whilst aligning its-self to modern trends in global consumption. A retail experience characterized by a wide range of clothing, expressed in timeless style, of smart creativity and unscrupulous craftsmanship that personify the Piombo project. In occasion of the launch, thecorner.com presents an exclusive video interview with Massimo Piombo.
Alongside the jacket - a symbol of the charisma and independence of Piombo's "new generation"; a selection of shirts, t-shirts, trousers and accessories in the most unexpected and surprising colors will be available. An eccentric style, smart and personal which reflects the culture voyage of knowledge and beauty undertaken by Massimo Piombo; shown by the primary research of evocative and exclusive fabrics such as the shabby cairo cotton, the timeless gabardine cloth, the soft corduroy and the dusty khaki, through to the soft fibers of the tender mohair and precious camel.
"Ours is an emotional, romantic and emotive journey", underlines Massimo Piombo; "thecorner.com is one of the most coherent online realities on the international scene. Within the online boutique we present a personal and private dimension, a niche that allows us to preserve our independent and unique philosophy and that of the Piombo world."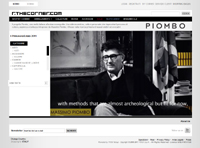 March 2011
METALIZED SHELL
AN ACNE/HUSAM EL ODEH COLLECTION EXCLUSIVELY FOR THECORNER.COM
Starting from mid March 2011, Acne will launch an exclusive jewellery capsule collection at thecorner.com, the online boutique showcasing a selection of cutting-edge fashion and accessories for men and women through dedicated mini-stores.
The Metalized shell collection exclusively conceived for thecorner.com is based on the Spring/Summer 11 Seafindings Jewellery collaboration between Husam el Odeh and Acne.
"When we first talked about collaborating with Husam about two years ago, I recall saying that I was hoping for an ongoing exploration, a relationship rather than a one night stand. Our collaborations have definitively developed into a creative love affair. There is no one I'd rather work with on this exclusive project for thecorner.com."
Jonny Johansson
"For thecorner.com we wanted to give the romanticism of seaside findings a bit of a graphic edge. The luxurious materials keep a rawness juxtaposed with inserts and clean lines. It is an exercise in two materials, cold hard metal and warm soft shell, both picking up elements from one another. All pieces are handcrafted in London and individually unique as every piece of shell is hand-carved."
Husam El Odeh
The collection consists of five styles including earrings, cuffs, double rings, rings and bangles. Every piece comes in a numbered edition of between 5 to 25 depending on style and material. They are all handmade with individually carved sea¬shells on a base of either silver plated brass or solid sterling.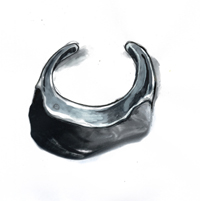 February 2011
FERRAGAMO'S CREATIONS EXCLUSIVELY ONLINE ON THECORNER.COM
Premiering on Oscar Night 2011, thecorner.com presents a unique selection of 15 pieces from Ferragamo's Creations, available online exclusively at thecorner.com.

"Ferragamo's Creations" is a special range of footwear – replicas of some of the most historic creations from among the over 13,000 models created by Salvatore Ferragamo during eighty years of creativity.

thecorner.com presents a selection of the most iconic models, as worn by some of the biggest stars of the past, to name just a few:

- 1936, the model "Carmen" with its platform sole covered in golden mirrors for Carmen Miranda
- 1949, the sandal "Oxalia", as worn by Greta Garbo
- 1950, the ballerina "Orient" for Audrey Hepburn
- 1955, the sandal "Ranina" in black 'Tavarnelle' lace for Anna Magnani
- 1959, the unforgettable stiletto worn in the movie "Some Like It Hot" by Marilyn Monroe

A range of collector's items created in limited edition, each individually numbered shoe is made entirely by hand, blending together the design, craftsmanship, and premiums materials as used in the original pieces.

Like precious jewels, these special creations arrive in elegant cream and gold packaging, with unique gold silk shoe-bags bearing the insignia of the Salvatore Ferragamo Museum (Palazzo Spini Ferroni), where the original pieces are displayed. The shoes are also accompanied by a certificate of authenticity, outlining the story and unique characteristics of these timeless objects.

Starting from the night of the Academy Awards, thecorner.com invites visitors on a unique voyage through the brand's historic archive, blending original photos and video footage to recreate the magic of those divas from the golden age of international cinema.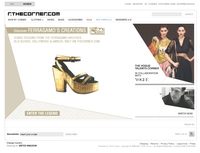 February 2011
VOGUE ITALIA and THECORNER.COM present "THE VOGUE TALENTS CORNER"
In collaboration with VOGUE US, VOGUE CHINA, VOGUE PARIS and VOGUE UK
24-27 February 2011 – 9 am to 5.30 pm | Palazzo Morando, via Sant'Andrea 6, Milan

Fourteen fashion designers from all over the world animate the exhibition "The Vogue Talents Corner". An eclectic and innovative scouting project that carries the signature of Vogue Italia and thecorner.com, whose purpose is to use e-commerce to give exposure to the creativity of the emerging talents of the international fashion scene.
The exhibition, with the patronage of the City of Milan, will be held in Palazzo Morando, in Via Sant'Andrea, and will open on 23 February at 7 pm with an invitation-only cocktail party. For four days following the opening, from 24 to 27 February, 9 am to 5.30 pm, the doors of Palazzo Morando will be open to the public to discover the creations of the featured designers.
"Capturing the new, recognizing young talent, promoting research are a guarantee of vitality in fashion. And it's a thrilling ongoing commitment for Vogue. We'd like to thank whoever shares and supports our work season after season", declares Franca Sozzani, Editor-in-chief of Vogue Italia.
"Joining the forces of Vogue and thecorner.com and their respective excellence in fashion editorial and e-commerce is a far-reaching way to promote emerging talent. Together we have created a virtual shopping window to the world allowing young designers to instantly connect with an international customer base", explains Federico Marchetti, Founder and CEO of YOOX Group.
The event is sponsored by international Condé Nast titles, with the selection process involving specifically Vogue US, Vogue China, Vogue Paris and Vogue UK.
The selected designers are: Akong London (designed by Nicole Akong), Burak Uyan, Caterina Gatta, Coliac (designed by Martina Grasselli), Covherlab (designed by Marco Grisolia), Georgia Turri, Glynneth B, Jen Kao, J.W. Anderson, Maria Francesca Pepe, Nuit N°12 (designed by Ludivine Machinet & Frédéric Baldo), Sara Battaglia, Uma Wang and Zou You. Nine women, four men and a duo, coming from Brazil, the United States, France, Germany, England, China and Italy.
"The Vogue Talents Corner" presents the collections of apparel and accessories – footwear, jewelry, bags – for the Fall/Winter 2011-12 season, along with a selection from the Spring/Summer 2011 collection, which visitors can purchase on site; a sort of "live" e-commerce that enables one to shop online at thecorner.com for the items on display, thanks to interactive touchscreens installed throughout the exhibit. Starting on 23 February, it will be possible to log on to thecorner.com, in an area dedicated to the project, and acquire the collections of the featured designers in more than 50 countries.
The creative concept of the exhibition is based on the idea of a "colored thread" that winds through the rooms of the palazzo.
The event is sponsored by Swatch, which presents the new line of bracelets and watches, "Lady Collection", specially for the occasion. Each of the new talents is paired with a color inspired by the new collection. Swatch thus confirms its partnership with Vogue Italia during Fashion Week for the second year in a row. "The Vogue Talents Corner" is supported by Altaroma, always on the front line along with Vogue Italia in the promotion of new talents with the competition "Who Is On Next?", this year in its seventh edition. It will also be supported by Mercedes-Benz Italia, which will also sponsor "Who Is On Next?" starting in July, thus underscoring its international commitment to the world of fashion through the promotion of emerging talents.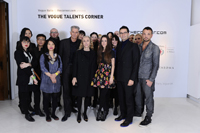 January 2011
THECORNER.COM PRESENTS THE PRE-ORDER AT PITTI UOMO 79
Pitti Immagine and thecorner.com confirm their partnership with the presentation at Pitti Uomo 79 of a new interactive shopping experience.

For the first time at Pitti Immagine, thecorner.com, as online retail partner, offers fashion lovers a chance to pre-order online a selection of pieces from the new Trussardi 1911 F/W 11-12 collection designed by Milan Vukmirovic. The collection will be presented in Florence during Pitti Uomo 79 in the beautiful surroundings of the Leopolda railway station.

From January 14th 2011, visitors to the thecorner.com can pre-order a selection of clothing and accessories directly from the video of the fashion show, with pre-ordered pieces available from May, an exclusive preview of the collection celebrating the 100th anniversary of Trussardi 1911.

Furthering its commitment to fostering the fashion industry's leading talents, thecorner.com will also present online the exclusive performance by Gareth Pugh, official guest designer at Pitti W_Woman Precollection n.7.

Both special guests are present on thecorner.com, with dedicated mini-stores offering a global showcase for their latest collections.